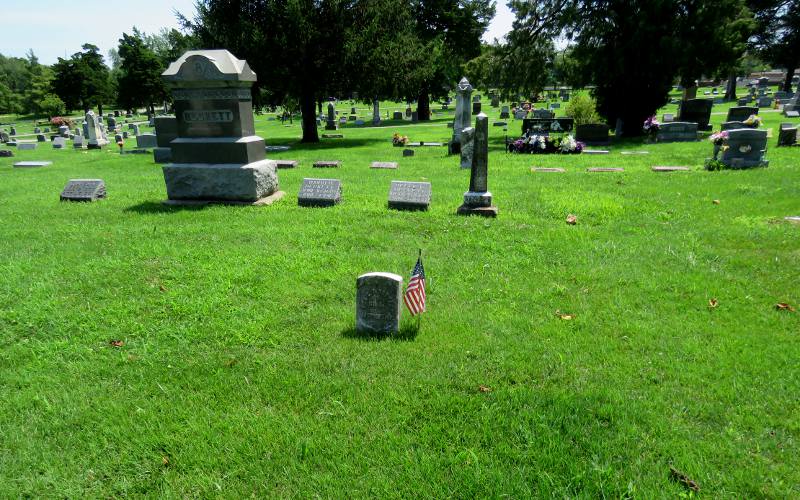 Robert Wolfley and Ada Abbott grave site
A lot in Olathe Memorial Cemetery in Olathe, Kansas contains the graves of two of President Barack Obama ancestors. The misspelled gravestone shown here is that of Robert Wolfley, who was born in 1835 and died on July 17, 1895 at the age of 60. Robert Wolfley is President Obama's great-great-great grandfather.
The grave of Ada Wright Abbott is unmarked. She is President Obama's great-great-great-great grandmother and was born in Maryland in 1799. She was buried on April 10, 1882. Her daughter, Rachel Abbott, married Robert Wolfley on September 29, 1859 and they had two sons and two daughters. Rachel Abbott Wolfley moved to Everett, Washington in 1907, died in 1911 and is buried in Everett.
Ada was the daughter of Abraham and Naomi Wright and married Jonathan Abbott on January 13, 1828. They had two daughters. Jonathan is buried in Everett, Washington.
Robert's obituary tells us that he served in Company A in the 145th Ohio National Guard infantry during the Civil War and stressed that he was a consistent member of the Methodist Episcopal Church for 46 years. He was born in Ohio and moved to Johnson County, Kansas in 1965, living first in Edgerton and then having a farm near Lenexa. In 1882, Robert, Rachel and their daughters joined the ME church in Lenexa, which is Lenexa United Methodist Church today. In 1892, poor health forced Robert to sell the farm and move to Olathe.
Robert and Rachel's daughter, Della L Wolfley, married Charles T. Payne and they are buried in nearby Lenexa Cemetery. Della & Charles' son, Rolla Charles Payne (President Obama's Great Grandfather), is buried with his wife, Leona Belle McCurry, in Highland Cemetery in Winfield, Kansas.
Rolla and Leona's daughter, Madelyn Lee "Toot," is President Obama's grandmother, and had a major roll in the raising of Barack Obama. She is buried in Honolulu, Hawaii, along with her husband, Stanley Armour Dunham. Their only child was Dr. Stanley Ann Dunham Obama Soetoro, the President's mother, who died in 1995.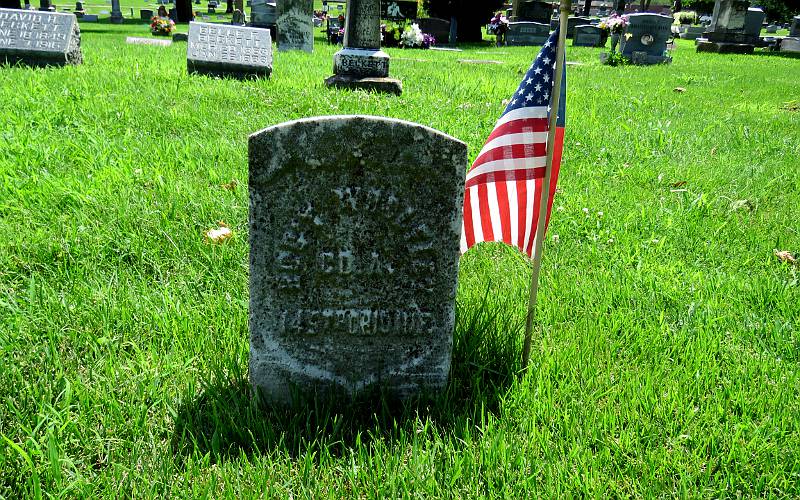 Rob't Woolfley (misspelled)
Co. A.
145th Ohio Inf.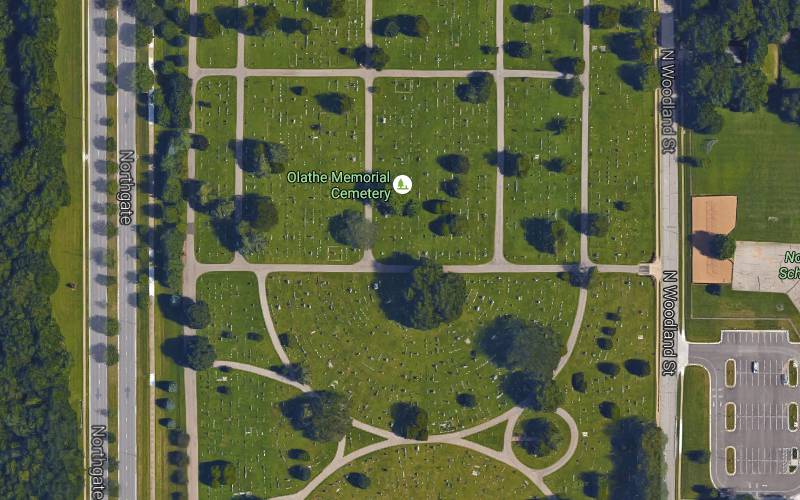 Robert Wolfley's grave is about 20' east of the white circle with "Olathe Memorial Cemetery" on this map
Addition 1, Block 147, Lot 3, Half w6
Ada Wright Abbott's grave in Half w1


Robert and Rachel Wolfley joined the Lenexa ME Church on January 28, 1882.
Daughters Anna and Della became members on August 13.


Olathe Memorial Cemetery Map
LS-7/16 copyright 2016 by Keith Stokes