Camping at the Walnut Valley Festival

918 Main
Winfield, Kansas 67156
(620) 221-3250

September 15 - 19, 2021


Kamp Kamo - Winfield Kansas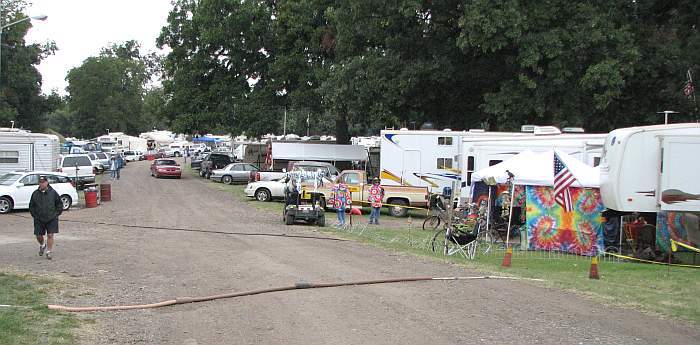 Small part of Pecan Grove Campground at Walnut Valley Festival - Home of the Unknown Picker camp at right.
For many campers, the Walnut Valley Festival will begin Saturday, a few days before the official Festival, when campers take part in the Walnut Valley Festival Land Rush, an annual race for the best fairground camping sites. In 2007, over 700 campers were in line when the race began.
The campgrounds at Winfield, Kansas, some of which line the shore of the Walnut River, are the temporary home for perhaps half of the people attending the Walnut Valley Festival. For many people the activities in the Festival campgrounds are the best part of the Walnut Valley Festival. There are a wide variety of camps, from a single tent to very elaborate combinations of RVs and other equipment. Some of the camps are decorated to great lengths and there is a competition for which one is the most fun.
Although most of the campers at the Walnut Valley Festival have known each other for years, newcomers are welcomed and likely to receive offers of food or beverages. It is a great place to hear or participate in informal music performances. You are likely to hear bluegrass, Celtic music, folk music, cowboy songs, gospel and more.
You will also encounter some of Walnut Valley Festival's professional performers, as this is their opportunity to relax and spend time with friends and other performers. The activities range late into the night. One camper said that "you don't come to Winfield to sleep."
Every year since 1995, Radio KWVF (Kansas Walnut Valley Festival) broadcasts at 105.7FM, beginning Wednesday afternoon before Land Rush Thursday until the final day of the Festival.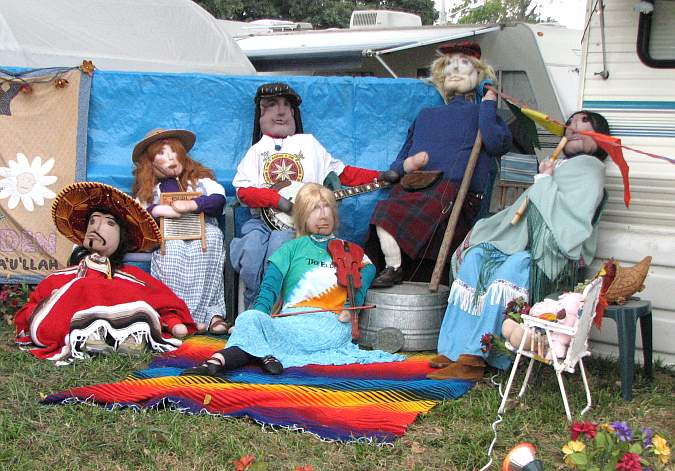 Camp Harmony in Pecan Grove Campground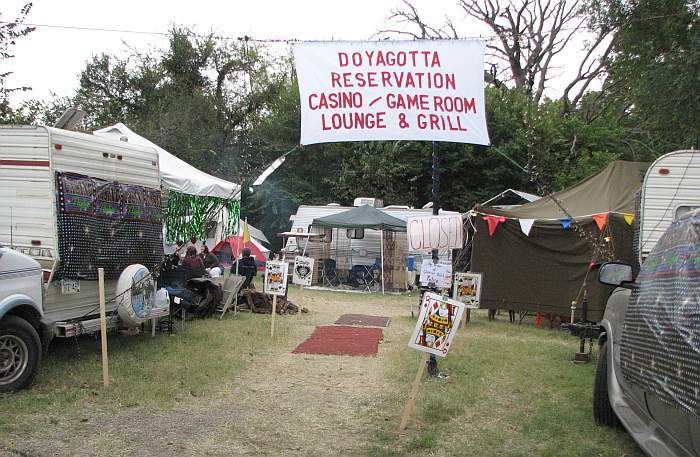 Doyagotta Reservation Casino / Game Room, Lounge & Grill finished second in the 2007 Campsite Decorating Contest

Doyagotta Reservation kitchen area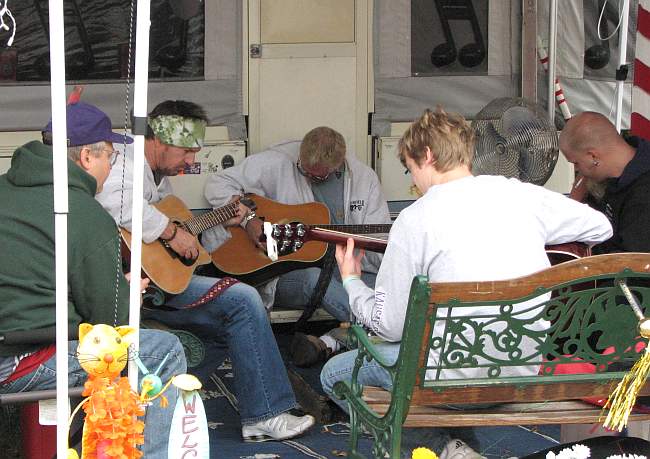 Winfield jam session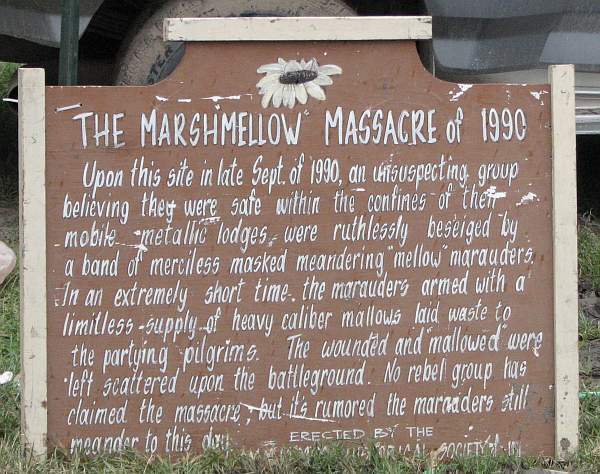 "The Marshmellow Massacre of 1990 historical marker... it's rumored that maraiders still meander to this day"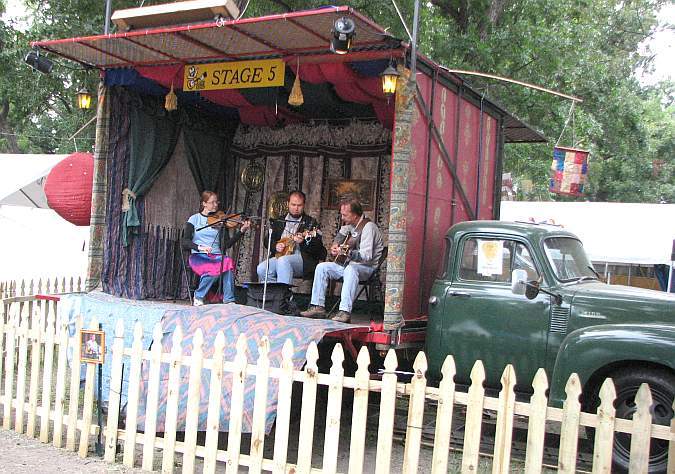 Lawrence, Kansas' Three Bean Salad playing on Stage 5 - Dayle Dryer Black, Mike Black, Mike Yoder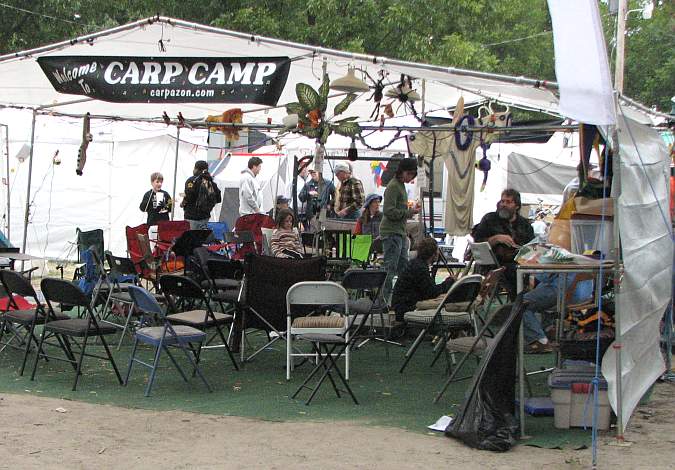 Carp Camp at Winfield carpazon.com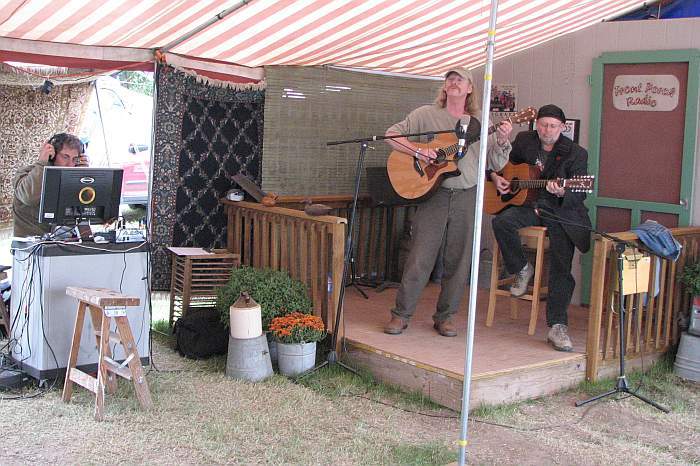 Front Porch Radio internet radio broadcasts hosted by the Group Therapy Camp.

Page 1 Page 2 Page 3 Walnut Valley Festival web site
Kansas Attractions Kansas Travel & Tourism Home
copyright 2007-2021 by Keith Stokes