Cosmosphere

1100 North Plum
Hutchinson, Kansas 67501
(620) 662-2305 (800) 397-0330

Open every day of the year except
Thanksgiving, Christmas and Easter.
Sunday - Thursday: 9-5 Friday - Saturday 9-7

Adults - $14 Hall of Space Museum
$24.50 Hall of Space Museum, IMAX film,
planetarium show, flight simulator & Dr. Goddard's Lab

Hutchinson Kansas Restaurant & Attraction Guide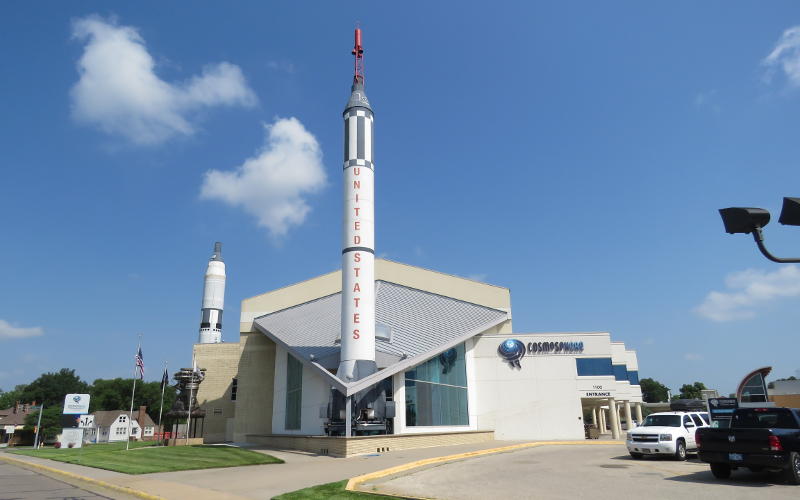 Cosmosphere International SciEd Center and Space Museum - Hutchinson, Kansas

The Cosmosphere International SciEd Center and Space Museum in Hutchinson has the 2nd largest collection of US space memorabilia anywhere and the largest collection of Russian space memorabilia outside the former Soviet Union. These are the experts that the other space museums come to for many of their exhibits' restoration.

Spacecraft and aircraft on exhibit at the Kansas Cosmosphere include Apollo 13, a Blackbird SR-71 spy plane, a flown Vostok spacecraft, a Sputnik, space suits & tools, items that have been on the moon. The Cosmosphere is where Liberty Bell, the Mercury 7 capsule that was recovered from the bottom of the ocean was restored.

Other attractions at the Kansas Cosmosphere include a digital dome theater, planetarium, Science lab show, food court, adult & youth space camps and new Mollett Early Spaceflight Gallery.

The Cosmosphere recommends a minimum of 4 hours for a visit, but even if you spend only a few hours at the Kansas Cosmosphere and Space Center, it is an entertainment bargain. Many visitors spend all day or even a weekend.

Only have a half hour? The public areas which can be seen without purchasing admission could still provide 30 minutes of enjoyment. They include a replica Apollo lunar lander, a flown SR-71 Blackbird, a restored Mission Control console, exhibits about each of the planets, a cutaway Saturn H-1 engine, gift shop, Cosmosphere Café and more.

Eight Wonders of Kansas

In 2007, the Kansas Sampler Foundation selected the Kansas Cosmosphere and Space Center as one of the Eight Wonders of Kansas.
Other sites selected as the Eight Wonders of Kansas include the Cathedral of the Plains, Kansas Cosmosphere, Monument & Castle Rocks, Tallgrass Prairie National Preserve and the Eisenhower Presidential Library.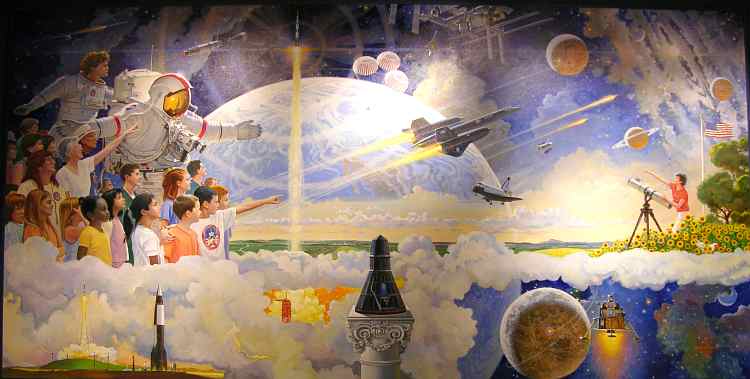 Dream - an original oil painting by Robert McCall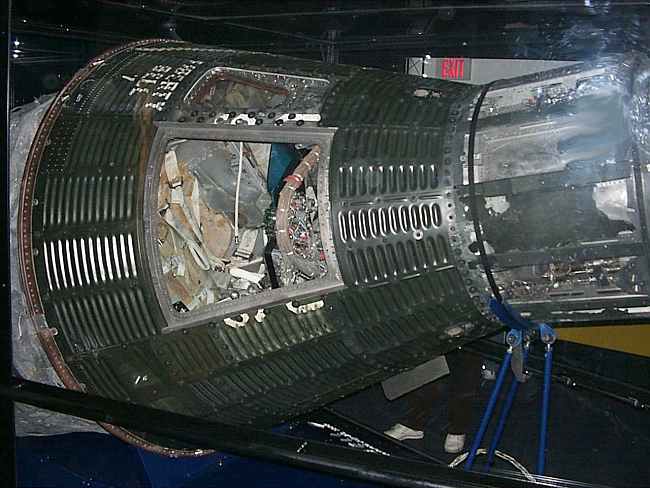 Mercury Capsule Liberty Seven returns to the Kansas Cosmosphere June 16 through the rest of 2020.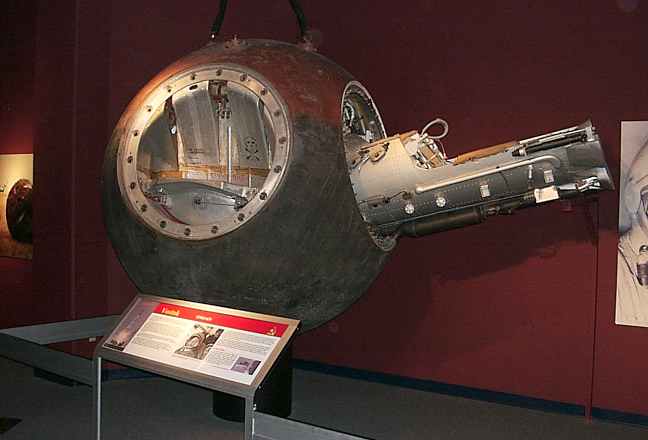 Soviet Vostok space capsule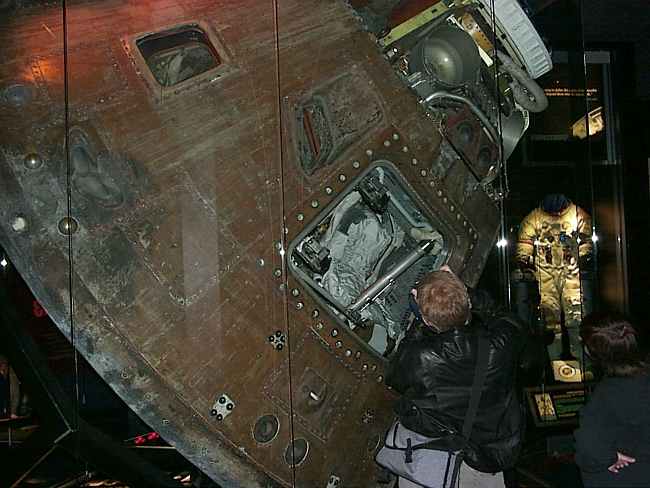 Apollo 13 Command capsule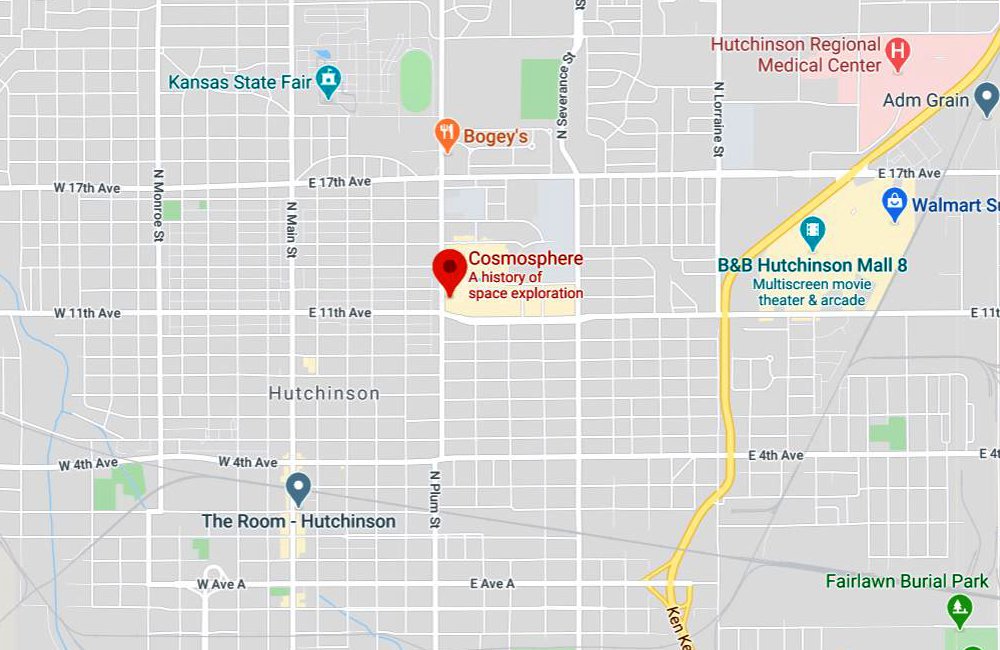 Cosmosphere International SciEd Center & Space Museum Map
Page 2 Page 3 Hutchinson Kansas Restaurant & Attraction Guide
Kansas Cosmosphere web site
Kansas Attractions Kansas Travel & Tourism Home
copyright 2004-2021 by Keith Stokes