St. Fidelis Church
the Cathedral
of the Plains

900 Cathedral Avenue
Victoria, Kansas 67671
(785) 735-2777

open during daylight hours
365 days a year mass served daily
tours available by appointment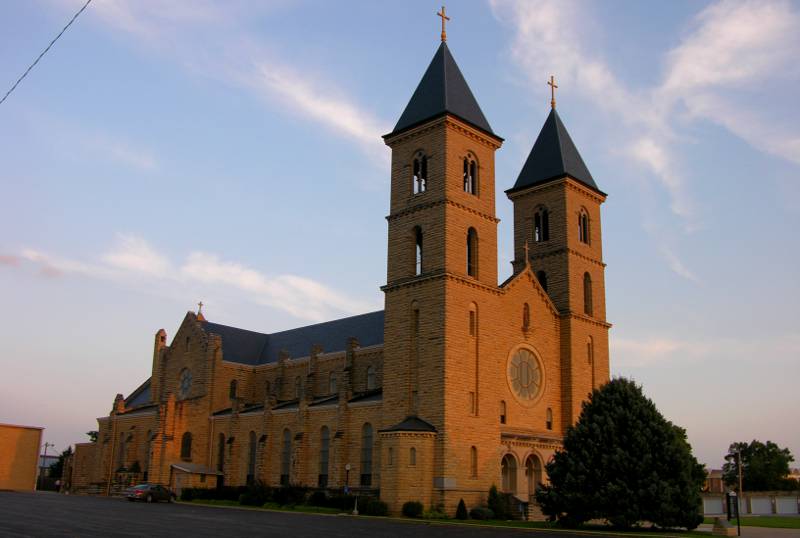 The Cathedral of the Plains - St. Fidelis Church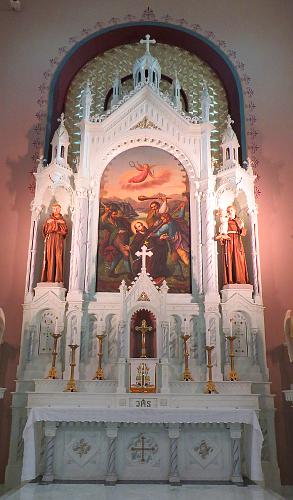 The "Cathedral of the Plains" is Saint Fidelis Catholic Church in Victoria, Kansas. It has seating for 1,100 people, which, at the time of it's dedication in 1911, made it the largest church west of the Mississippi River. The church is 220 feet long, 110 feet wide at the transepts and 75 feet at the nave. Its ceiling is 44 feet above the ground and the towers are 141 feet tall.
Since St. Fidelis Catholic Church is not the seat for a bishop, it is not a Cathedral. It received its nickname from William Jennings Bryan when he visited St. Fidelis in 1912.
After several years of petition, St. Fidelis Church was declared a minor basilica as of February 21, 2014. The Cathedral of the Plains is the first basilica in Kansas and the 78th in the United States. The church now displays a tintinnabulum (bell) and an ombrellino (umbrella) in the sanctuary as symbols of the basilica's link to the pope. The official name is now The Basilica of St. Fidelis, but most people continue to call it the Cathedral of the Plains.
Three previous churches served the community of predominately German immigrants, but the present church was begun in 1908 and completed in 1911. The exterior is constructed of large native limestone blocks weighing from 50 to 100 pounds each.
The Romanesque design church contains German windows & works of art, Austrian hand carved stations of the cross, and Italian marble altar. The church is open to the public (free) from dawn to dusk and anAn audio tour is available. Stop by early on a Friday evening and you may be treated to the sounds of the Saint Fidelis organist rehearsing. Groups or individuals may arrange a guided tour by contacting the Parish Office at 785-735-2777.
Sunday Masses are celebrated in St. Fidelis Church at 5PM on Saturday and 10:00AM on Sundays. Daily Mass is celebrated at 7PM on Monday and 6:45AM on the other weekdays.
Eight Wonders of Kansas
In 2007, the Kansas Sampler Foundation selected the Cathedral of the Plains as one of the Eight Wonders of Kansas.
Other sites selected as the Eight Wonders of Kansas include the Kansas Cosmosphere, Monument & Castle Rocks, Tallgrass Prairie National Preserve and the Eisenhower Presidential Library.
On May 14, 1971, St. Fidelis Church was placed in the National Register of Historic Places.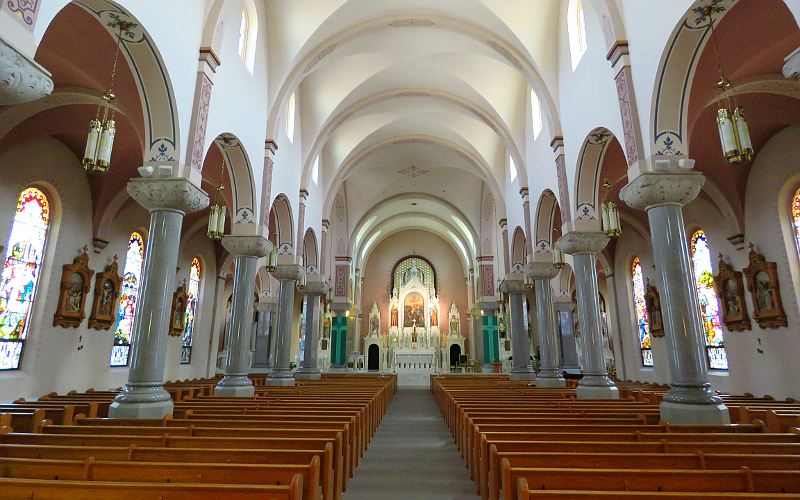 The nave at St. Fidelis Church has seating for 1,000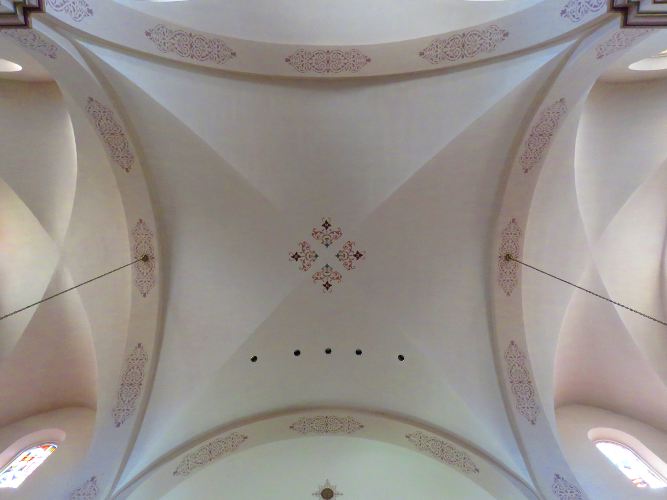 The ceiling above the transept, at the front of the Nave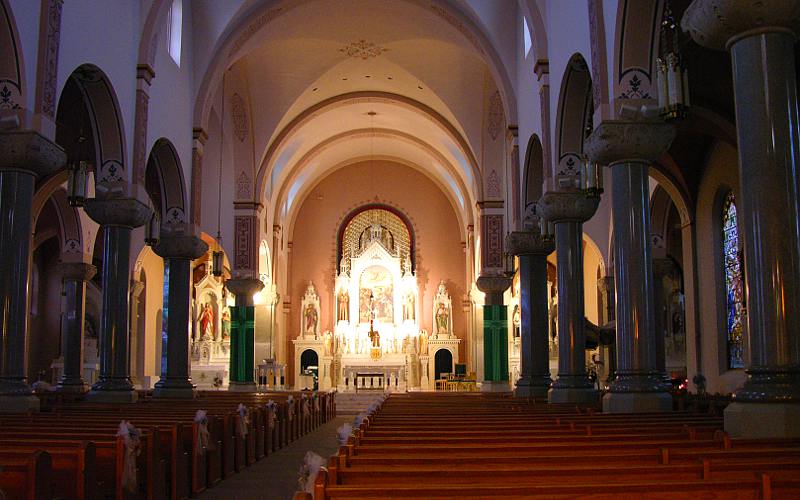 The interior of St. Fidelis Church is even more striking at night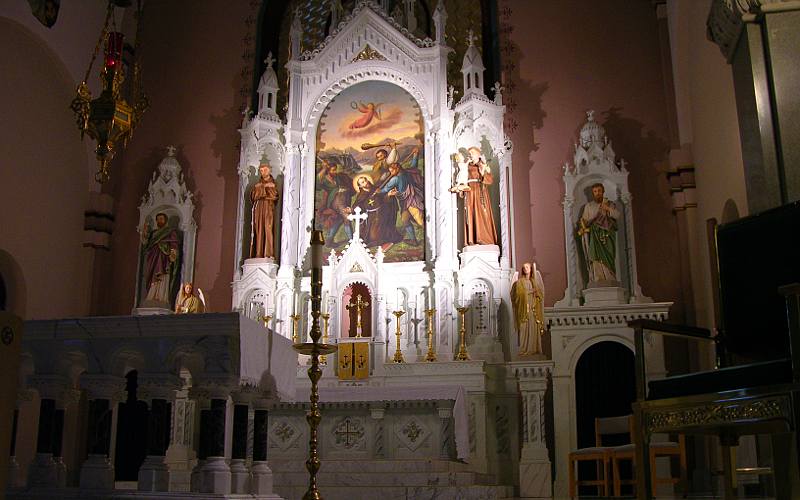 On May 25, 1986, Bishop George Fitzsimons of Salina set aside the marble altar and
church for the perpetual and exclusive use of worship.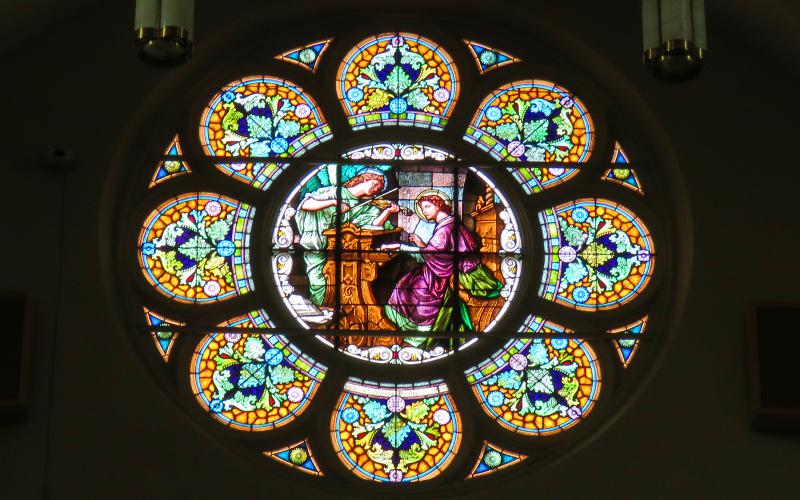 The rose window at the front of the church St. Cecilia, the patroness of music.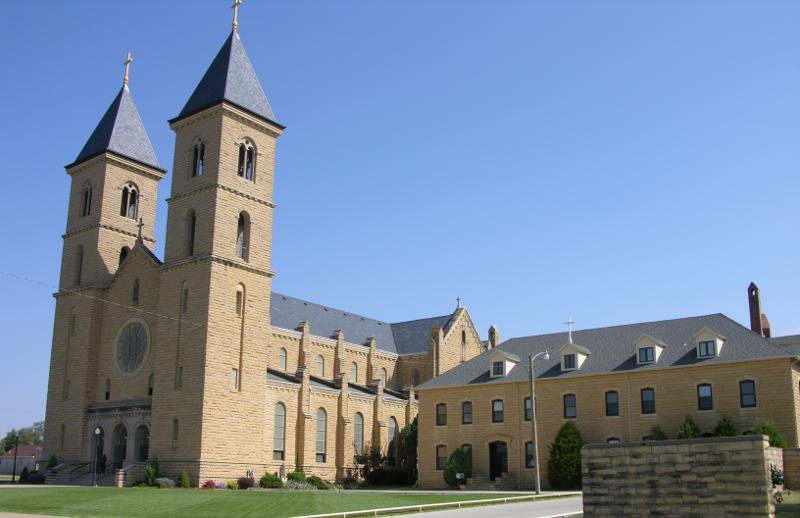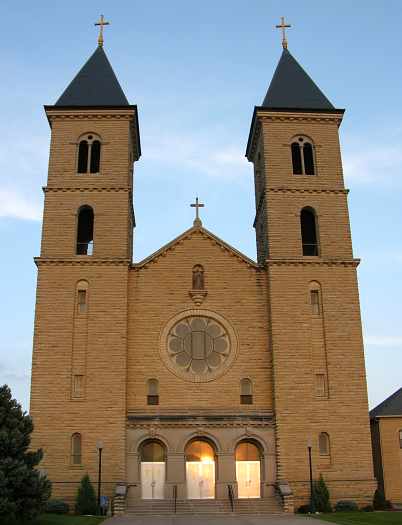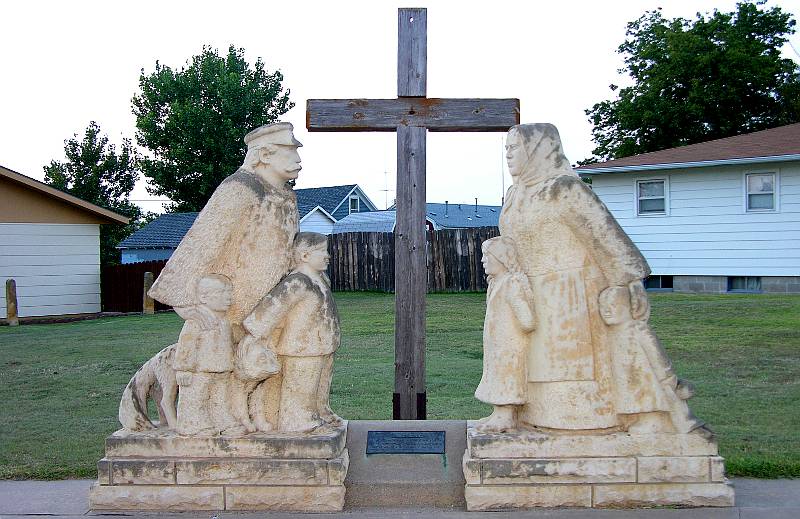 This life size Volga German Family was statue sculpted by Hays' artist Pete Felten in 1976.
It is across the street from St. Fidelis Church

St. Fidelis church web site Beautiful & Historic Kansas Churches
Kansas Attractions Kansas Travel & Tourism Home
copyright 2005-2017 by Keith Stokes