Lucas Travel Plate Map
World's Largest Souvenir Plate

Kansas Highway 18
Lucas, Kansas 67648

Free Open dawn to dusk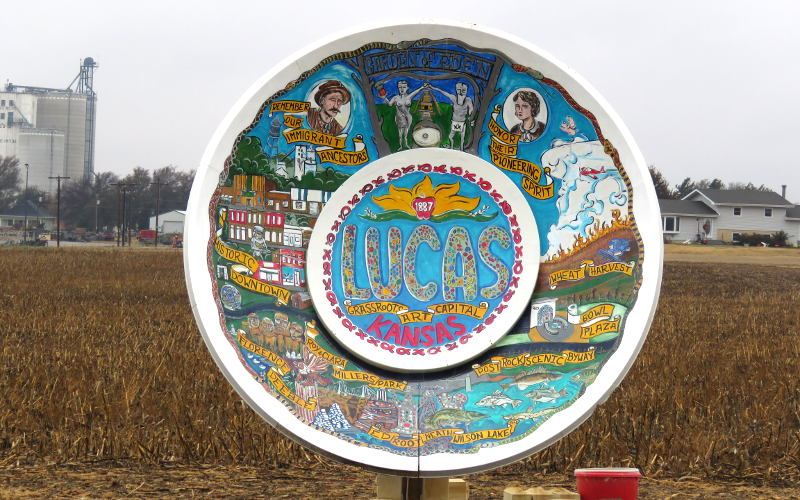 Lucas Travel Plate - Lucas, Kansas
Lucas, Kansas is the Grassroots Art Capital of Kansas and has more interesting attractions than you would ever expect in a town of about 400 people. Most of those attractions are within a couple of blocks of the small downtown, but one of the quirky attractions is on Kansas Highway 18 on the southeast approach to town.
The Lucas Travel Plate, also known as The World's Largest Souvenir Plate, is a creation of Erika Nelson, who also created the World's Largest Collection of the World's Smallest Versions of the World's Largest Things Traveling Roadside Attraction and Museum. Erika is a Lucas artist who is involved with many folk art installations across Kansas and the United States.
The travel plate was erected and originally hand painted in 2006 on a 14' fiberglass satellite dish with a smaller satellite dish mounted at its center. The plate was freshened and updated when "Toilet Bowl Plaza" opened in downtown Lucas and repaired and repainted in the summer of 2018 after storm damage. The photos on this page are from before that last repair.
The giant souvenir plate has images of many of the folk art attractions in Lucas and has many small details which only reveal themselves with repeated viewing. For example, the center, smaller plate is ringed with sausage links from Brant's Meat Market and the upper right hand has a tiny "flying pig" tribute to the late Eric Abraham, who had the Flying Pig Gallery in Lucas.
Erica did not do this alone and her web pages devoted to the giant travel plate thank the City of Lucas crew, the local telephone company and the National Endowment for the Arts for their valuable support. Erica challengers visitors to be inspired to build their own World's Largest Thing where they live.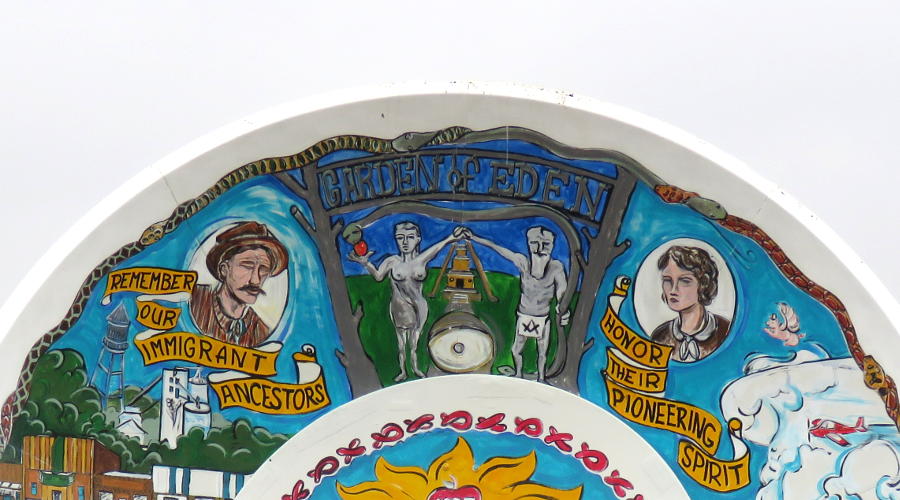 Remember our immigrant ancestors, Garden of Eden, Honor their pioneering spirit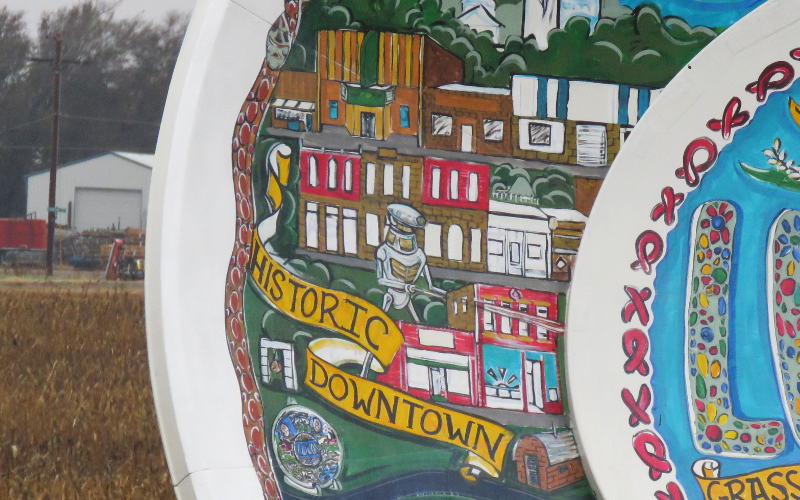 Historic downtown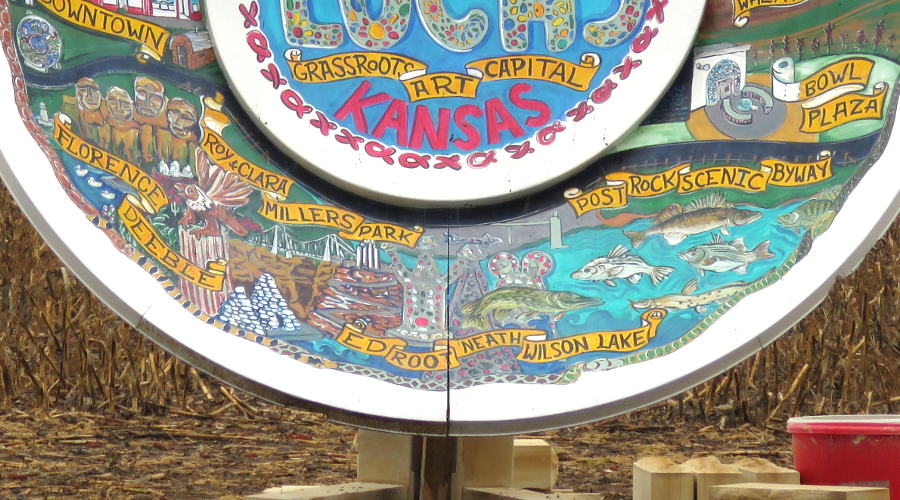 Grassroots Art Capital, Roy & Clara Millers Park, Florence Debble,
Ed Root ;neath Wilson Lake, Post Rock Scenic Byway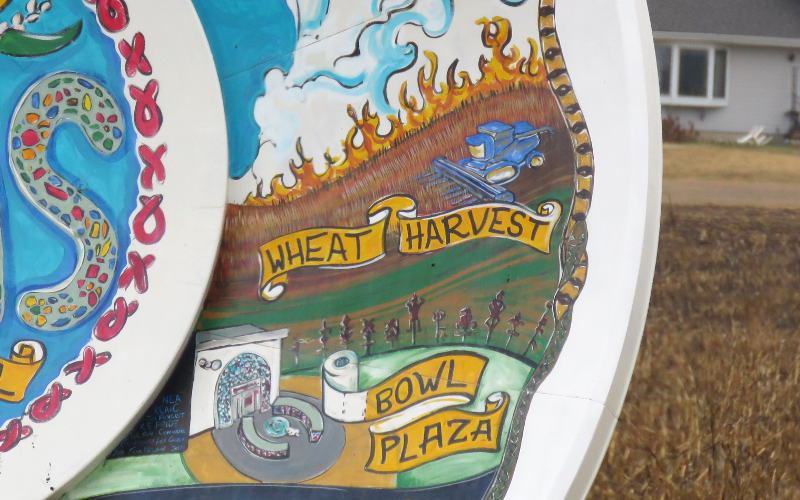 Wheat Harvest, Bowl Plaza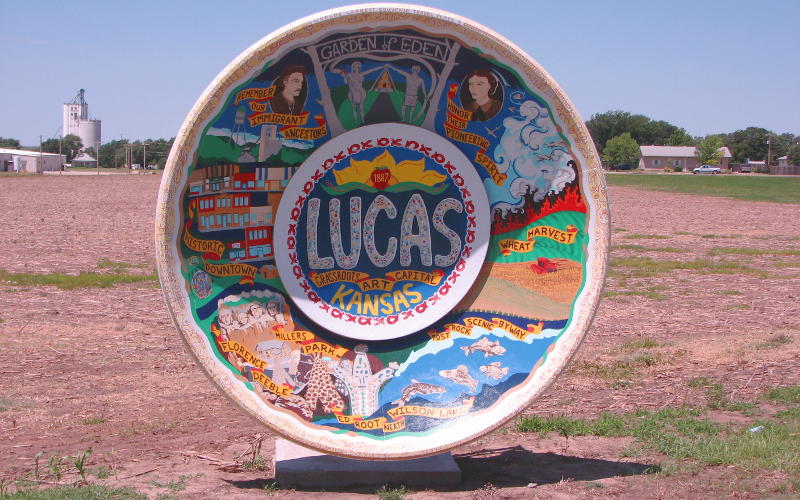 The original version of the Lucas Travel Plate in 2007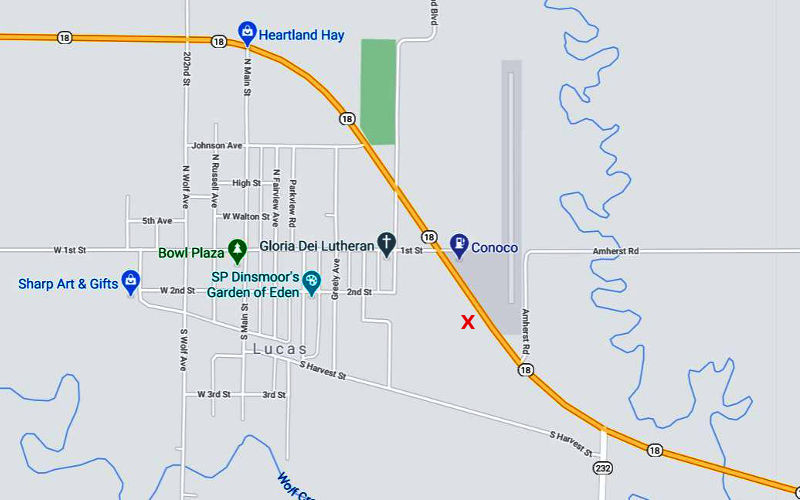 Lucas Travel Plate Map
Garden of Eden web site
Kansas Attractions Kansas Travel & Tourism Home
copyright 2007-2021 by Keith Stokes