Lucas, Kansas

US Highway 18 in Central Kansas

If you enjoy folk art, you should make a point of visiting Lucas, Kansas. It was designated the "Grassroots Art Capital of Kansas" by Governor Graves in 1996. The Lucas community of only 460 people offers more interesting attractions than communities many times larger. All within easy walking distance.
Just 15 miles north of I-70 along the the beautiful Post Rock Scenic Byway (Kansas Highway 232). The photo of Wilson Lake on the home page of Kansas Travel was taken along the Byway.
I think that Lucas, Kansas is one of the neatest little communities that you will find anywhere. If you haven't visited Lucas, you haven't seen Kansas.
| | |
| --- | --- |
| Bowl Plaza is the name of the public rest room facility in downtown Lucas. The public loo was built in 2011-12 in the shape of the world's largest toilet, with the building being the tank, benches in front of the building forming the toilet bowl, a 14' mosaic toilet lid surrounding the entrance, and a giant roll of toilet paper unwinding to form the side walk. There is a dog statue taking a drink from the bowl. Bowl Plaza is handicapped accessible. | |
| Brant's Meat Market features fine fresh meats as well as dry cured bacon, beef jerky, homemade Czech bologna, and wonderful smoked link sausages. The market has been operating since 1922. Four generations of the Brant family worked in the shop. The market closed in January 2018, but reopened under new ownership with the same recipes in June 2018. | |
| Florence Deeble began constructing her Rock Garden using rocks brought back from her travels and recreating scenes from her travels when she was 50 years old and continued nearly 50 years. | |
| S. P. Dinsmoor was a a retired schoolteacher and Civil War veteran who moved to Lucas, Kansas in 1891. During most of the remaining 31 years of his life, he created a unforgettable legacy known as the Garden of Eden. | |
| The Garden of Isis features 5 rooms of Mri-Pilar's bizarre art made from doll bodies, toys, kitchen utensils and other recycled materials. | |
| The Grassroots Art Center in Lucas promotes self taught artists from around the state of Kansas, with an emphasis on the folk artists who did most of their work in Lucas. The Center occupies three late 18th Century buildings downtown Lucas. | |
| The Lucas Travel Plate, also known as The World's Largest Souvenir Plate, has images of many of the folk art attractions in Lucas and has many small details which only reveal themselves with repeated viewing. | |
| Roy and Clara Miller began building a rest stop on Kansas Highway 18 in 1921. Starting in 1932, they added a rock garden and miniature buildings using rocks and shells they brought home from their travels and until the 1960s, travelers stopping at Miller's Park found rock & concrete sculptures, fresh water, cabins, a playground and picnic tables. 45 pieces of the folk art environment are preserved in Miller's Park Sculptures. | |
| Toilet Bowl Plaza in downtown Lucas houses public rest rooms. It is shaped like the World's Largest Toilet and decorated with found objects. It finished #2 in the 2014 America's Best Restroom Contest and was one of six toilets in tourism destinations around the world to win titles in the 2018 International Toilet Tourism Awards. It was awarded Quirkiest Experience – as a public rest room with bling! | |
| The World's Largest Collection of the World's Smallest Versions of the World's Largest Things Traveling Roadside Attraction and Museum. Although it is best enjoyed while on the road, it can be viewed at its home in Lucas the rest of the year. | |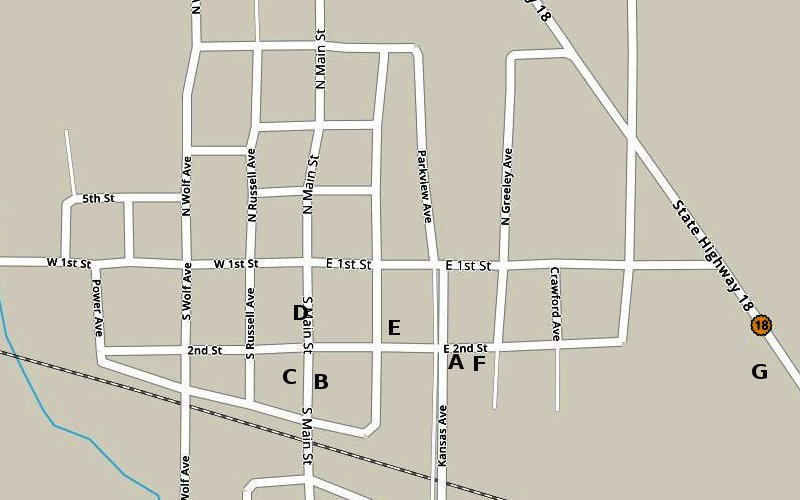 A. Garden of Eden
B. World's Largest Things
C. Grassroots' Art Center
D. Brant's Meat Market & Toilet Bowl Plaza
E. Florence Deeble's Rock Garden & Garden of Isis
F. Miller's Park Sculptures
G. Lucas Travel Plate
copyright 2005-2021 by Keith Stokes