Here are many of the Topeka, Kansas Christmas light displays worth going out of your way to see. Click on the photos for larger images or links to pages devoted to the displays.

The tours change every year and several times during the Christmas season as new displays go up. The most recent update was December 22, 2022 and updates will be made several times a week. Changes are made as the info becomes available.

Please email us if you see errors, changes or have recommendations of displays to be added.

2022 Topeka Christmas Light
Kingman Christmas Village

For over 20 years, the Kenny and Virginia Kingman Christmas Village has grown until nearly 30,000 lights fill their large north Topeka yard. It takes most of a month to set up the many cutout figures and buildings which populate the fictional town of "Nowheresville." This is one of the most impressive holiday displays that I have seen anywhere. Be sure drive around the alley behind the house to see more of the decorations. There are nice smaller displays in the two blocks south of this one.

A. 1935 NW Polk Street, Topeka, Kansas 66608

Cannock Chase Road Christmas Displays
There is a block of nice Christmas light displays along Cannock Chase Road leading north from 29th Street. A couple of them particularly stand out, including the one above which is on the ride side of the street, where the numbers change and it curves west, at 7100 SW Cannock Chase Road. This display isn't particularly large, but it is so effective and attractive.

Please email if you know more about this holiday display.


I. 2819 SW Cannock Chase, Topeka, Kansas 66614

Polk Street Christmas Display
This NW Polk Street Christmas Display was new to the tour in 2019. We discovered it while visiting the Kingman Christmas Village above and it is just a few doors north. Despite a modest sized front yard, the arrangement makes effective use of the space and is quite inviting.

Please email if you know more about this holiday display.


B. 2021 NW Polk Street, Topeka, Kansas 66608

Staffordshire Road Christmas
At one time, three homes in a row formed major Christmas Light Displays in the 3000 block of Staffordshire Road on the southwest side of Topeka. For 2019, it is mostly one, with part of one of the display stretching into each of the next yards. There is a lot to see. Either of these displays would be worthy of inclusion on this holiday light tour on its own. The display is produced by Pam and Terry Fleck. The display will start going up November 25 and be complete about December 4.

J. 3032 SW Staffordshire Road, Topeka, Kansas 66614

Roberts Family Holiday Display
The Roberts Family Holiday Display on North Kansas Avenue was started by Donna Roberts around 1995 and has been part of this tour since 2013. It was once just hand painted snowmen and Christmas trees that her sister had painted. New generations of the family slowly add lights and carries on this tradition for Donna who passed away 3 days before Christmas in 2016. This display is about winter, with icicles, white trees and many snowmen. Up December 1 until New Years.

C. 1715 North Kansas Avenue, Topeka, Kansas 66608

Skyline Parkway Holiday Lights
The attractive Skyline Parkway Holiday Lights display ws new to the Christmas tour in 2017. They do a nice job of decorating the large corner lot. This is across the street from Skyline Park and Burnett's Mound. Some years Santa makes an appearance at the Skyline Holiday Lights.





K. 3340 SW Skyline Pkwy, Topeka, Kansas 66614

Potwin Place Neighborhood
The Potwin Place Neighborhood Christmas Display is the most visited stop on our tour of Topeka holiday lights. The national historic district has 6 blocks of well decorated, beautiful old homes, plus theme displays on the small roundabouts at each intersection. Start the tour on Woodland, from 4th Street and tune your radio to 96.9FM. The 2022 theme is The 12 Days of Christmas and it will be up from November 26 until January 7, 2023. More photos and a longer review.

D. SW Greenwood & SW Woodlawn, Topeka, KS 66606

Evans Christmas Lights

The Evans Christmas Lights run nightly from 6-9PM with a light program and music broadcast on 88.7FM. Many of the homes in the surrounding Southboro Subdivision have large displays and some use white light roping to tie them together. In some blocks, nearly every home has the white lights and it provides very attractive panoramas. Southboro is north of the intersection of 45th and California Avenues. Construction on California makes it hard to get here in 2022.


L. 4211 SE Wisconsin Avenue, Topeka, Kansas 66605

Peace Family Christmas Program
The Peace Family Christmas Program was new to Topeka in 2019. They moved here from Colorado, where they had a program set to music for 5 years. There are many lights & elements to the show, spread over such a large a lot. In 2022 there are more lights and the program feels more coordinated. For the best view, come up the street from the south and watch from the far side of the street. The music is broadcast on 99.9FM and the program runs from 5:30-10PM Sunday - Thursday and 5:30-11PM on Friday & Saturday.

E. 655 SW Westchester Road, Topeka, Kansas 66604

Winter Wonderland XXV
2022 is the 25th year for Winter Wonderland, a fundraiser for TARC. Located in the Lake Shawnee Campground, Winter Wonderland XXI runs from 6 - 10 PM each night from November 23 until December 31, 2022. Admission is $10 per car, $20 for Commercial vehicles or small buses, $30 for buses. There are other activities at Winter Wonderland including a 5K run.

More photos and a longer review of Winter Wonderland.

M. 3435 SE East Edge Road, Topeka, Kansas 66605

Zoo Lights
Zoo Lights is a brand new holiday light event at the Topeka Zoo. Visitors walk through half of the zoo with 150 lighted trees, 200 light displays, a holiday village and Santa Claus. Timed tickets are sold online and are $12-15 for adults or $9 for children. If you don't have the time for a walk through, the part of display you can see through the fence is still worth a look. More info about Zoo Lights and how to purchase tickets.
November 19 - December 28, 2022.

F. 635 SW Gage Boulevard, Topeka, Kansas 66606

Cortez Holiday Light Show
The Cortez Holiday Light Show started in 2008 and has grown into one of the nicest music and light shows which we have seen. The program is synchronized to music on 102.5 FM. Since 2019 the home across the street has been added to the show. The program runs from 6PM to 10PM Sunday - Thursday and 6PM to 11PM on Friday and Saturday). Please be respectful of the neighbors. Runs November 12, 2022 - January 1, 2023.

N. 3919 SE 30th Terrace, Topeka, Kansas 66605

Washburn Winter Walk
The Washburn University Alumni invite you to come to the Topeka campus for the Washburn Winter Walk to see and enjoy the lights from 5 - 10 PM daily from November 29, 2022 until February 6. The display seen from the car in the first year wasn't really worth coming out of your way, but they expanded to 71,000 lights in 2021. Even the first year, it was a pleasant walk. Parking is available in the parking lot south of Bradbury Thompson Alumni Center.

G. 1701 SW Jewel Avenue, Topeka, Kansas 66621

Croco Road Christmas Display
The Croco Road Christmas Display hasn't been up every year, but it is up in 2021. It is spread over more than an acre and many of the elements of this large display by Byron & Sandy Glotzbach (including a helicopter in the air with a spinning rotor) are impressive It is a bit handicapped by being partially hidden by the Croco Road I-70 overpass and by trees along the road.


O. 2100 Southeast Croco Road, Topeka, Kansas 66605

Staniec Family Christmas Lights
The Staniec Family Christmas Lights is new to our Topeka Christmas Display Tour in 2022. The flashing lights are set to music broadcast on 102.5FM and there is a different program every other night. There are two LED light trees, the larger of which sings most of the program. Approach the house from 21st because Eveningside continues only a couple of blocks to the south.

H. 2124 SW Eveningside Drive, Topeka, Kansas 66614

Reedy Set Glow
Reedy Set Glow was added to the Topeka Christmas display tour in 2020. The Christmas light show includes music broadcast on 89.1FM and singing faces. The show includes about 18 songs and starts at 6PM each night. It runs until 10PM Sunday - Thursday and until midnight on Friday and Saturday. Starts December 1, 2022. Reedy Set Glow also does a music and light show in the weeks leading up to Halloween.

P. 2838 SE Minnesota Avenue, Topeka, KS 66605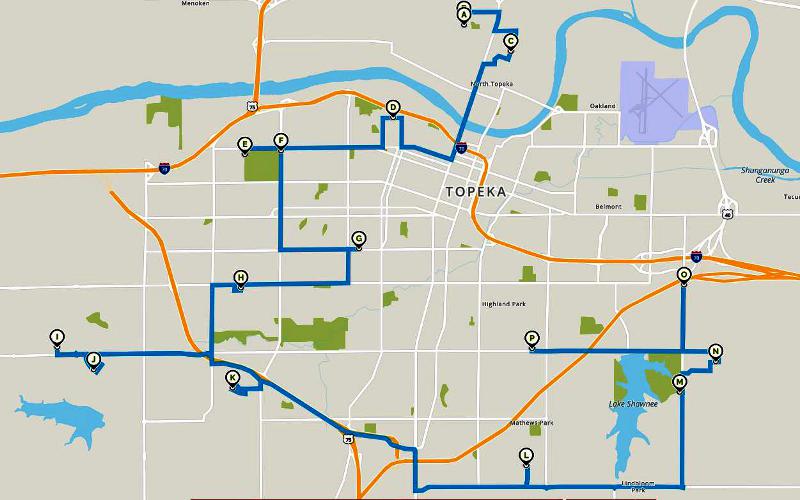 This route takes you by the Topeka Christmas Displays in the same order that they
are listed above. The entire route is 37 miles and takes over an hour & 24 minutes to drive,
without the time spent at the displays. Or break the tour into North, West, and South Topeka
Christmas light tours on different nights.
| | | | |
| --- | --- | --- | --- |
| A, B & C | Displays D, E & F | Displays G, H, I, J & K | L, M, N, O & P |
2022 Northwest Topeka Christmas Light Tour
Dondee Lane Christmas Display
The Dondee Lane Christmas Display is new to the Topeka Christmas Light Tour in 2022. It was good finding this Christmas display after so many older ones did not come back this year. The most unusual item in this display is the inflated Santa in a snowman head hot air balloon at the far left.

A. 4211 NW Dondee Lane, Topeka, KS 66618

Blassingame Nativity
We love the large Roy and Beverly Blassingame Nativity, which is just a couple of doors from the previous display. This is the 7th or 8th year that this display has been up, but the display has expanded in 2022 and I particularly like the Magi on camel silhouettes that were added along the fence.

C. 3312 NW 33rd Terrace, Topeka, Kansas 66618

The North Pole
The North Pole is also new to the Topeka Tour in 2022. The lights are spread over an enormous yard and are much more effective in person than they are in this photo. The rope lighting continues around the lot to the right. This the 12th year that the Anderson family has done a display and the 4th year that the display has been this large. They call it the North Pole because they are located so far north in Topeka.

B. 2900 NW 43rd Terrace, Topeka, KS

35th Street Nativity
We didn't spot this 35th Street Nativity display in 2019, but it doesn't stand out until you are pulling up Bent Tree Lane to 35th. This is is so simple, but so effective. The spotlight on this nativity cut out throws a large shadow on the side of the home, centered on a bright lighted star.

Please email if you know more about this holiday display.

D. 3221 NW 35th Street, Topeka, Kansas 66618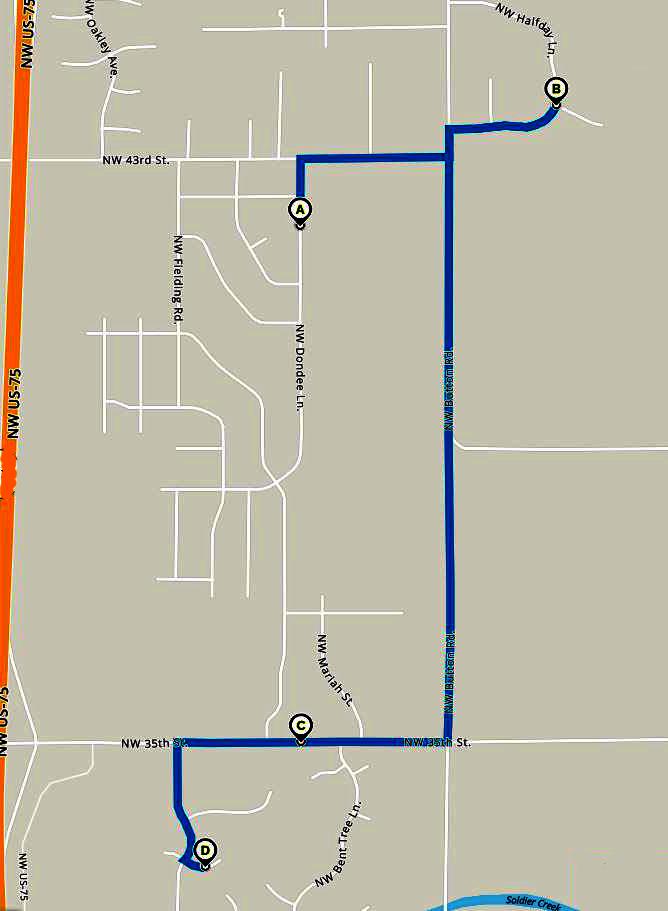 Far Northwest Topeka Christmas Light Map

Unique Kansas Restaurants
Kansas Attractions Kansas Travel & Tourism Home
copyright 2008-2022 by Keith Stokes