Here are many of the Topeka, Kansas Christmas light displays worth going out of your way to see. Click on the photos for larger images or links to pages devoted to the displays. The tours changes every year and many times during the Christmas season as new displays go up.

The Topeka Christmas Light Tour is updated for 2018.

Special thanks go to my support team (Dean, Lyle, Mary and Linda) who have navigated, drove, and otherwise assisted in the Topeka Christmas Display tour in various combinations for ten years. It is good having native guides and they make scouting the tour much more fun.

2018 Topeka Kansas Christmas Light Displays
Snowy Holiday Display

This Snowy Holiday Display on North Kansas Avenue was new to the tour in 2013. This display seems to be all about winter, with icicles, white trees and many snowmen. Only one of the snowmen are lighted, but the others show up in the street light from Kansas Avenue. There is another nice display nearby.

Please email if you know more about this holiday display.

A. 1719 North Kansas Avenue, Topeka, Kansas 66608

Staffordshire Road Christmas Displays
At one time, three homes in a row formed a major Christmas Light Displays in the 3000 block of Staffordshire on the southwest side of Topeka. For 2014, it is mostly two, with part of one of the display stretching into the next yard. There is a lot to see. Either of these displays would be worthy of inclusion on this holiday light tour on its own. The display at 3032 is produced by Pam and Terry Fleck. Up through January 7.


J. 3032 SW Staffordshire Road, Topeka, Kansas 66614

Kingman Christmas Village
For over 20 years, the Kenny and Virginia Kingman Christmas Display has grown until nearly 30,000 lights fill their large north Topeka yard. It takes most of a month to set up the many cutout figures and buildings which populate the fictional town of "Nowheresville." This is one of the most impressive holiday displays that I have seen anywhere. Be sure drive around the alley behind the house to see more of the decorations. There are nice smaller displays in the two blocks south of this one.

B. 1935 NW Polk Street, Topeka, Kansas 66608

Burnett Court Christmas Display
We discovered the Burnett Court Christmas Display on our way to investigate the Skyline Parkway Holiday Lights. We were seeing it from the back, but there was even an impressive display from this side. While it may not be obvious in this photo, there are an amazing number of decorations packed into a fairly small space. This is new to the tour in 2017.

Please email if you know more about this holiday display.


K. 4805 SW Burnett Court, Topeka, Kansas 66614

Walker Family Christmas Display

We stumbled across the Walker Family Christmas Display while revisiting nearby displays in 2011. They have a large lot at the end of a block and have displays on two streets (some years on three). The display includes many flood lit cut out cartoonish figures which are worth seeing in daylight. The cut outs don't show as well in this image but it is quite impressive.

Partly up, but unlit on December 2, 2018.

C. 1431 NW Harrison, Topeka, Kansas 66608

Skyline Parkway Holiday Lights
The attractive Skyline Parkway Holiday Lights display ws new to the Christmas tour in 2017. They do a nice job of decorating the large corner lot. This is across the street from Skyline Park and Burnett's Mound.

Only partly up as of December 2, 2018.

If you can tell us more about this display, please email.

L. 3340 SW Skyline Pkwy, Topeka, Kansas 66614

Stang Family Nativity

This large Stang Family Nativity display at the corner of Eugene & Grant was handmade and painted by family members Joyce and Dennis Kroll and Tanner Kuhn. We have never seen its like before. It was discovered while verifying other light displays and was new to the Topeka tour in 2013 when this photo was taken. It is much the same in 2017.

Please email if you know more about this Christmas display.

D. 1293 NW Eugene Street, Topeka, Kansas 66608

Pittenger Christmas Display
We discovered the Pittenger Christmas Display on our way to view another display in the neighborhood. Actually we had seen it the year before, but the presence of a bright street light in front of the home makes it hard to get good photos. Trudy Pittenger loves Christmas decorations and her husband, Phillip, has given her a new major decoration each of the past 20 years. I particularly like the figures of Santa and a reindeer on the porch of the playhouse

M. 3110 SE Indiana Avenue, Topeka, Kansas 66605

Potwin Place Must See!

The Potwin Place Neighborhood Christmas Display is the most visited stop on our tour of Topeka holiday lights. The national historic district has 6 blocks of well decorated, beautiful old homes, plus theme displays on the small roundabouts at each intersection. Start the tour on Woodland, from 4th Street. The 2018 theme is a International Celebration and it will be up until January 5, 2019.
More photos and a longer review.

E. SW Greenwood & SW Woodlawn, Topeka, KS 66606

Southboro Christmas Subdivision

Many of the homes in the Southboro Subdivision use the same white light roping that you see here. In some blocks, nearly every home has the white lights and it provides very attractive panoramas. This listing is for much of the subdivision north of the intersection of 45th and California Avenues. The Evans' family home at 4300 SE Michigan Avenue has a light program from 6-10PM and broadcasts music on 88.7FM.


N. 4211 SE Wisconsin Avenue, Topeka, Kansas 66605

Seabrook Avenue Christmas Displays Up 2018
Seabrook Avenue has several attractive, modest sized light displays on the east side of the street, but the display which sets this apart is on the opposite side of the street. The 1733 Seabrook display has a large Peace, Love & Apple Sauce sign in lights and is done by Danny and Shara Monhollon.


F. 1733 & 1746 SW Seabrook Ave, Topeka, Kansas 66604

Powell Family Christmas Display Up 2018!
William & Elaine Powell repeatedly won prizes for their Christmas displays in the 1990s and 2000s. The Powells' Christmas display has been much smaller in recent years, but it is still very attractive and nicely done. Our facorite part in 2018 is a carousel. From SE 29th Street, turn north on Aquarius. Leo is on the right.

O. 2326 SE Leo Avenue, Topeka, Kansas 66605

National Lampoon Christmas Up 2018

The National Lampoon Christmas Vacation display has several elements from the movie, including Clark Griswold (Chevy Chase) dangling from a ladder which has fallen back from the house, Cousin Eddie (Randy Quaid) holding a hose, and the fried cat under the chair. Russ & Laney Barkhurst started this theme in 2017 and expanded it when it was well received. They already have plans for more in 2019.

G. 1828 SW Moundview Drive, Topeka, Kansas 66604

Croco Road Christmas Display

After not being up when we checked in 2017, the Croco Road Christmas Display is back up in 2018. It is spread over more than an acre and many of the elements of this large display by Byron & Sandy Glotzbach (including a helicopter in the air with a spinning rotor) are impressive It is a bit handicapped by being partially hidden by the Croco Road I-70 overpass and by trees along the road.

P. 2100 Southeast Croco Road, Topeka, Kansas 66605

Goodrich Family Christmas Display Up 2018
In 2007, the Goodrich Family Christmas Display was a regional winner in Topeka's Holiday Lights Contest. Rob and Jennifer Goodrich moved to Topeka from California and many of these decorations came with them from previous displays. I particularly like the lights on the roof as seen from 29th Street. The display is a litle smaller in 2018, than previous years.

H. 2844 SW Lincolnshire Court, Topeka, Kansas 66614

Cortez Holiday Light Show Confirmed 2018!
The Cortez Holiday Light Show started in 2008 and has grown into one of the nicest music and light shows which we have seen. The program is syncronized to music on 107.3 FM.

The 2018 program starts at 6PM and turns off at 10PM Sunday - Thursday (11PM on Friday and Saturday).

Q. 3919 SE 30th Terrace, Topeka, Kansas 66605

Cannock Chase Road Christmas Displays

There is a block of nice Christmas light displays along Cannock Chase Road leading north from 29th Street. Three of them in particular really stand out, including the one above which is one of the first homes you see on the left side at 2819 SW Cannock Chase Road. 7100 SW Cannock Chase.

Confirmed 2018!

I. 2819 SW Cannock Chase, Topeka, Kansas 66614

Winter Wonderland XX Up for 2018!

2018 is the 21st year for Winter Wonderland, a fundraiser for TARC. Located in the Lake Shawnee Campground, Winter Wonderland XX runs from 6 - 10 PM each night from November 21 until December 31, 2018. Admission is $10 per car, $20 for Commercial vehicles or small buses, $30 for buses.

More photos and a longer review of Winter Wonderland.

R. 3435 SE East Edge Road, Topeka, Kansas 66605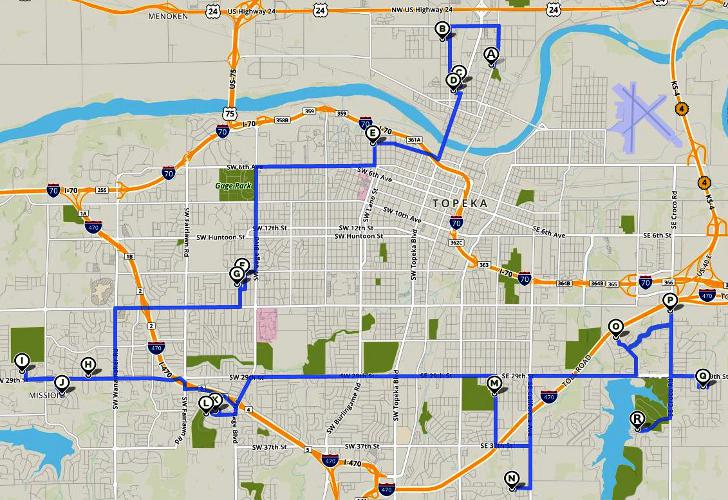 This route takes you by all of the Topeka Christmas Displays in the same order that they
are listed above. The entire route is 33 miles and takes nearly an hour & 40 minutes to drive,
without the time spent at the displays. Or break the tour into North and South Topeka
Christmas light tours on different nights.
| | | |
| --- | --- | --- |
| Displays A, B, C, D & E | Displays F, G, H, I, J, K & L | Displays M, N, O, P, Q & R |
Unique Kansas Restaurants
Kansas Attractions Kansas Travel & Tourism Home
copyright 2008-2018 by Keith Stokes