Jurassic Art

256 West Rosewood Street
Rose Hill, Kansas 67133
(316) 776-2162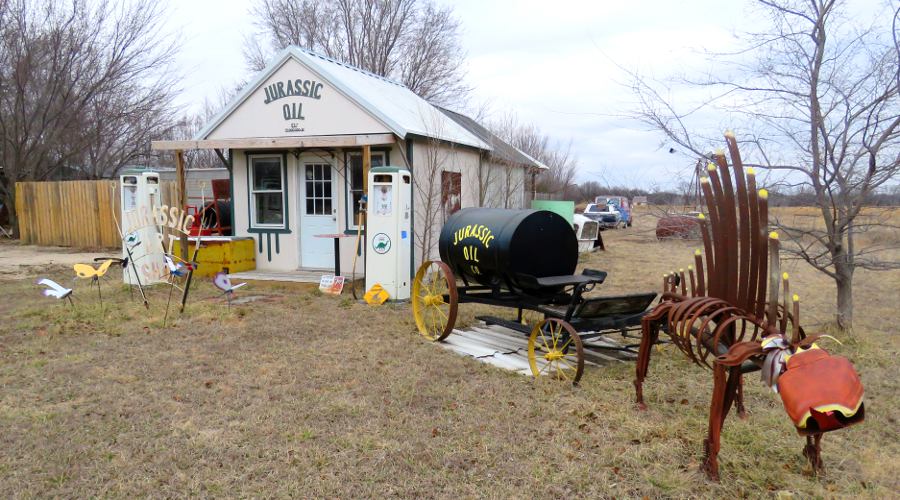 Jurassic Oil
Just 3 miles east of Field Station Dinosaurs is a completely different group of dinosaurs and other unique creatures at Jurassic Art in Rose Hill, Kansas. Dozens of grassroots art creations by Phil Brinkley cover about an acre surrounding the auto and motorcycle shop of Heavy Metal Restorations and Margaret Brinkley's Spiritual Healing and Consultation Studio.
Phil Brinkley largely creates this wonderful metal folk art for his own pleasure, but does create some smaller pieces for sale. Some of the larger pieces have also been sold, but most sales of large pieces are by commission, with recent creations being placed in front of the Museum of World Treasures and Trinity Academy in Wichita. Phil's work has also been displayed at Exploration Place and at the Grassroot's Art Center in Lucas.
The public is welcome to come see these fun creations, either driving through the yard on the horseshoe shaped drive or parking out of the way to see and photograph the art up close.

These group of happy motorcyclists is a homage to the Brinkley family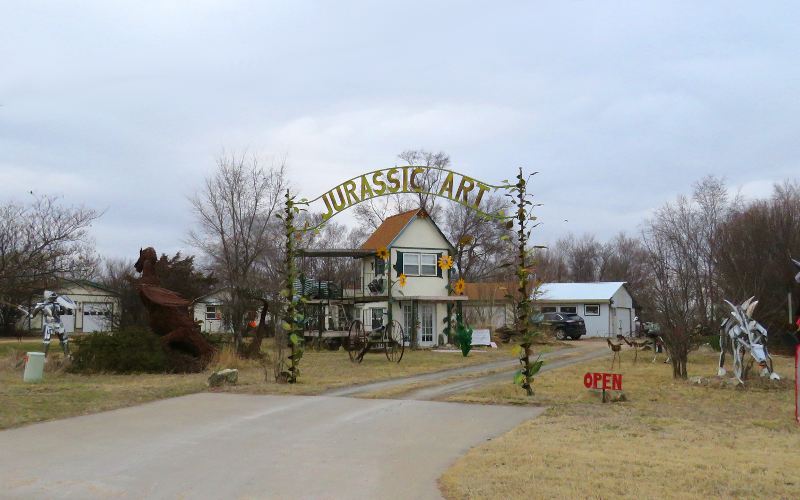 Jurassic Art - Rose Hill, Kansas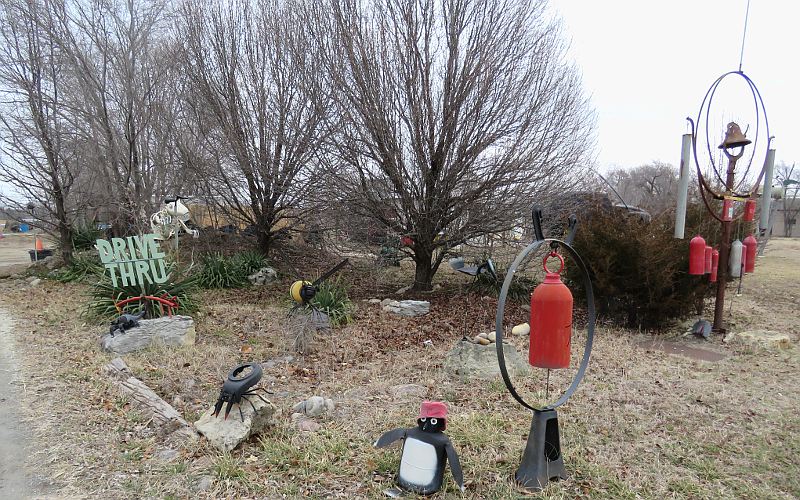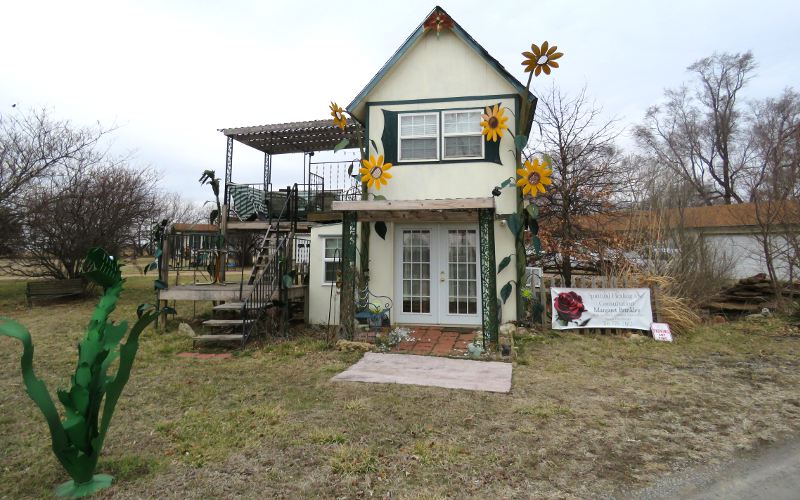 Margaret Brinkley's holistic healing center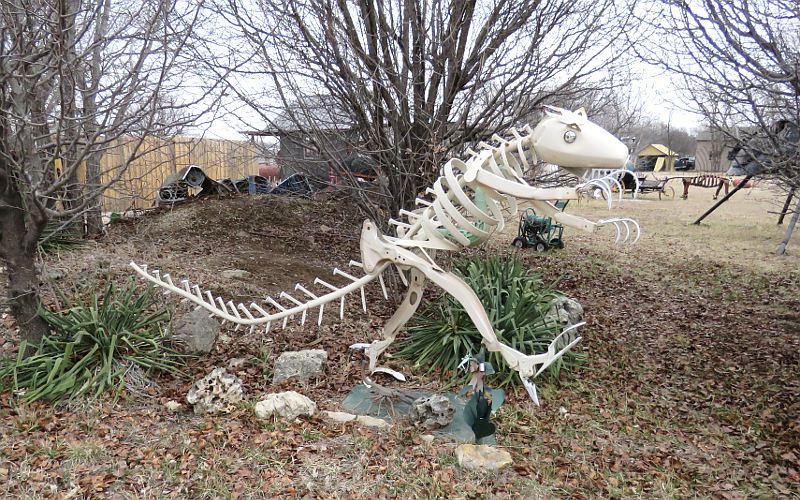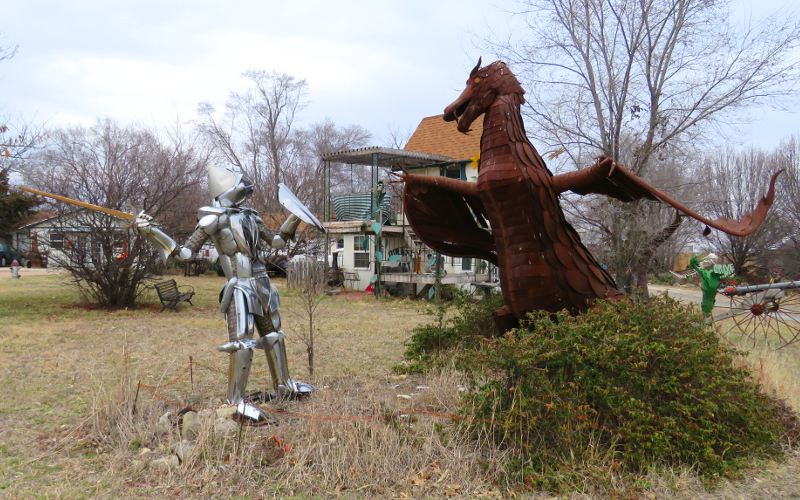 Sir Allen the Knight
A 15.5 foot version of Sir Allen is displayed at Wichita's Trinity Academy.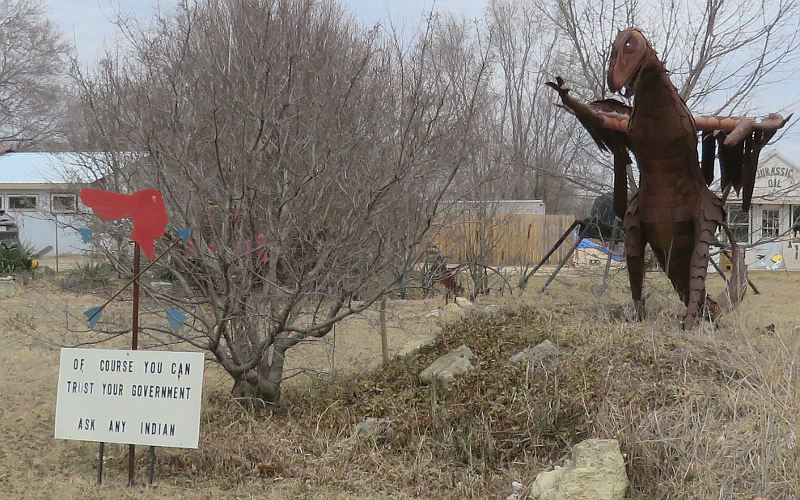 "Of course you can trust your government - ask any Indian"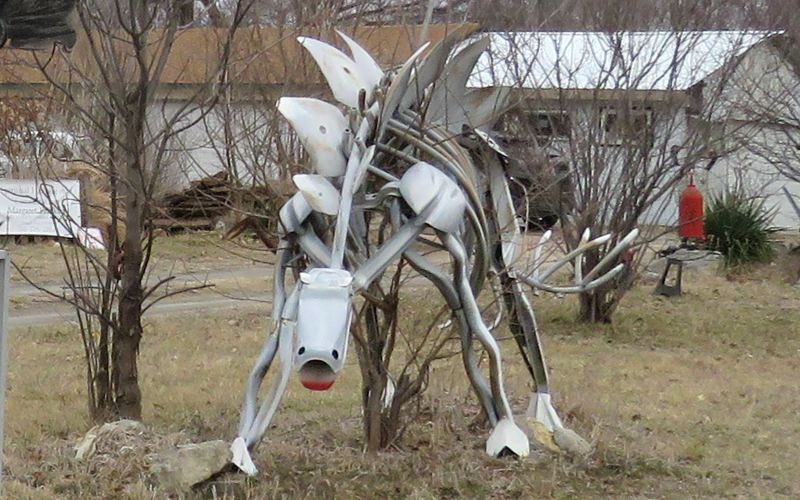 Stella Stegosaurus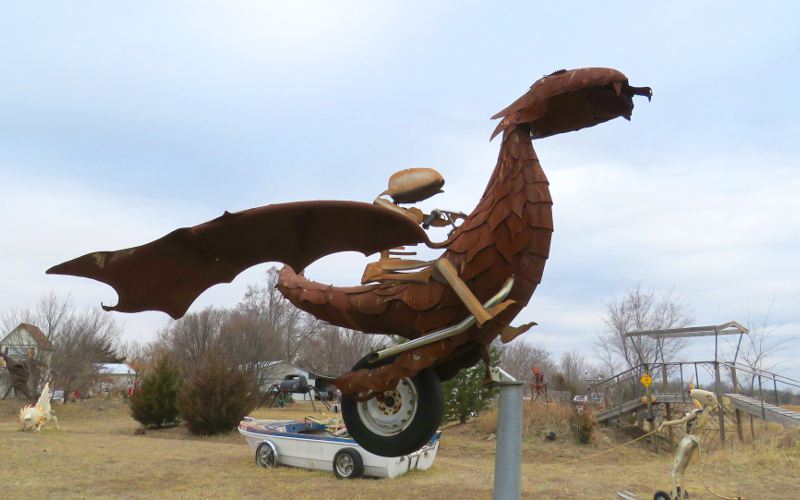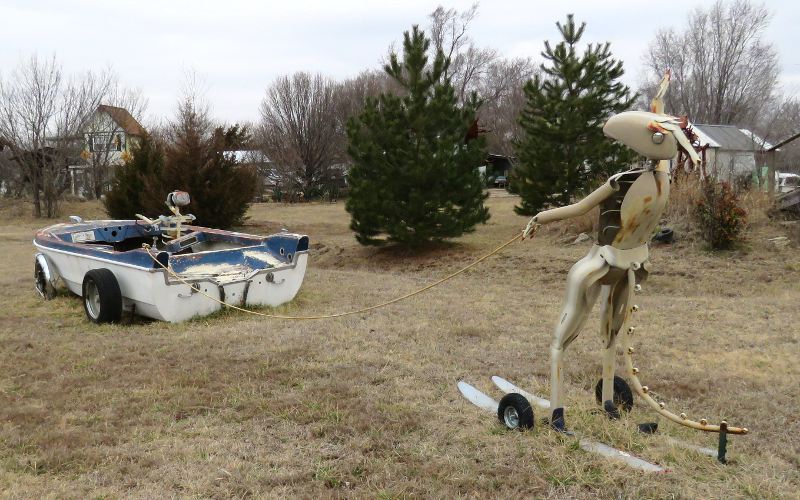 Water skiing dinosaur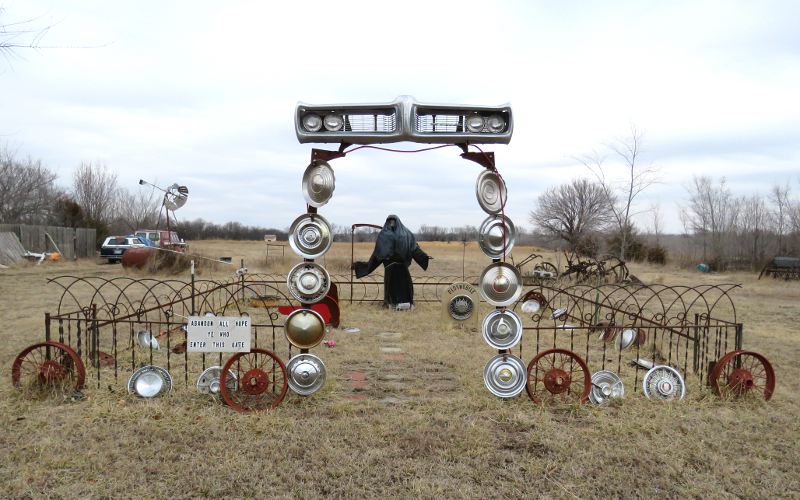 "Abandon all hope ye who enter this gate"
A graveyard for discontinued automobile brands.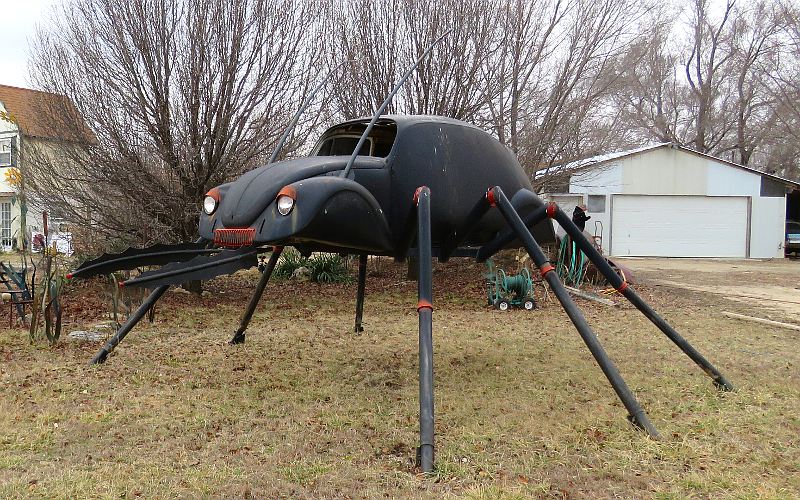 1971 Volkswagen Beetle
Although Phil Brinkley started welding repurposed auto parts and other materials in 1998 and has made well over 1000 pieces, we didn't learn about this wonderful work until August on 2018 and I was finally able to make it to Rose Hill to see this art environment in March 2019. I had been photographing pieces for about 15 minutes when Phil came out to meet me and tell me about his history.
I learned that Phil (who is a retired Cessna employee) and his son Allen do auto restoration and I was soon touring their body shop and studio. The have done some fabulous wheeled art creations and restoration of classic automobiles.
I would have liked to purchase some of Phil's art for our yard, but none of the pieces that he makes for sale were finished at this time.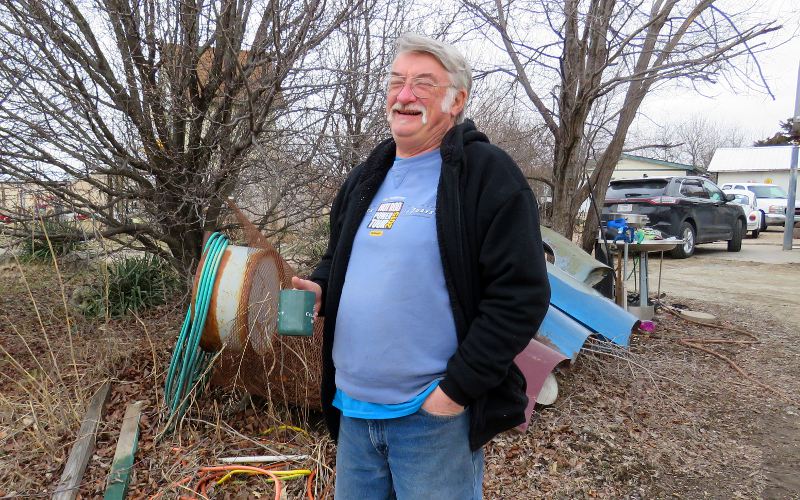 Phil Brinkley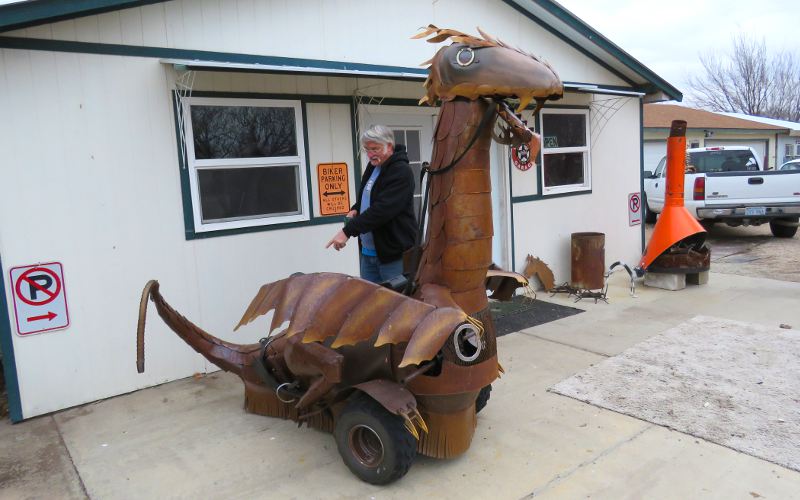 This creature is powered and has been a big hit at parades.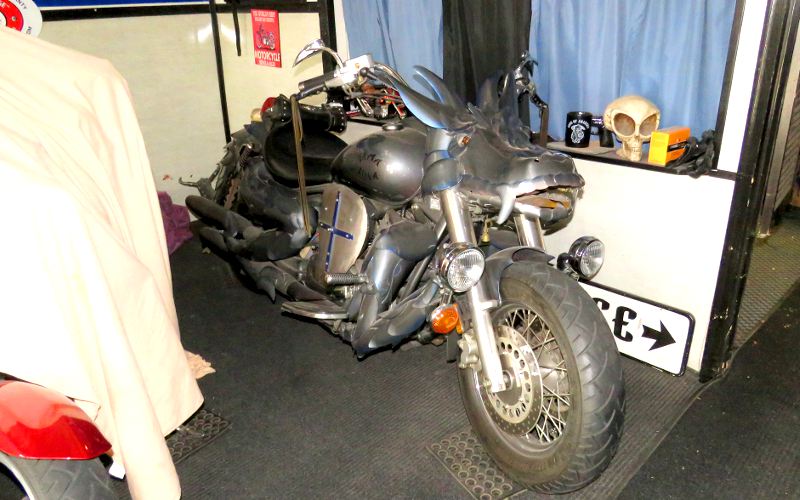 Yama Zilla
Customized Yamaha V-Star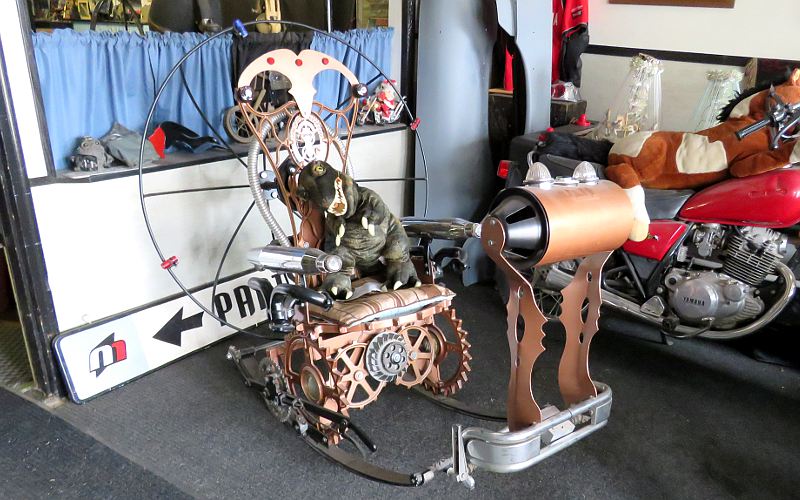 The Time Machine rocking chair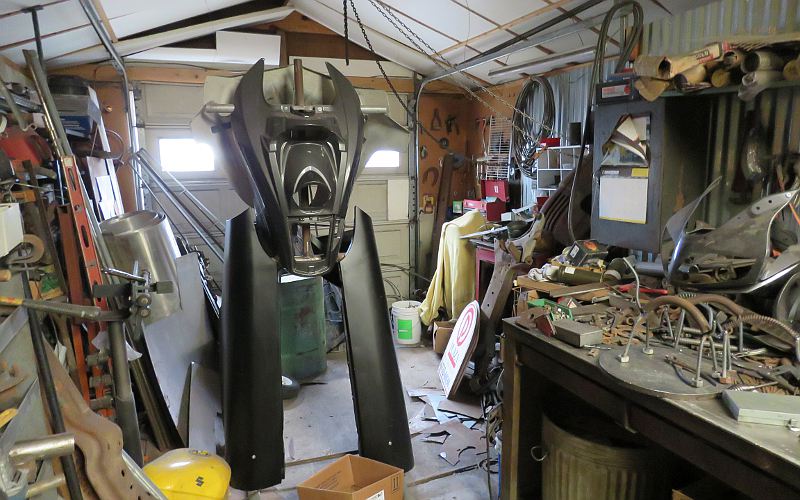 A transformer being created from the hood of a jet ski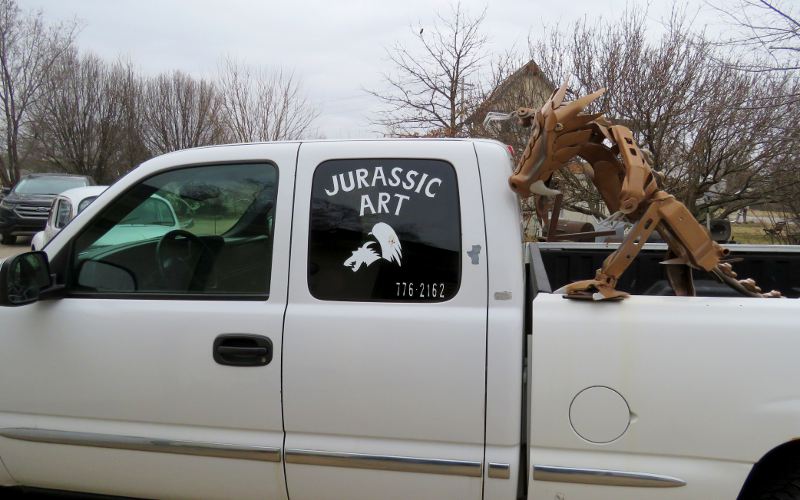 The doggie in the back of Phil Brinkley's pickup gets lots of attention.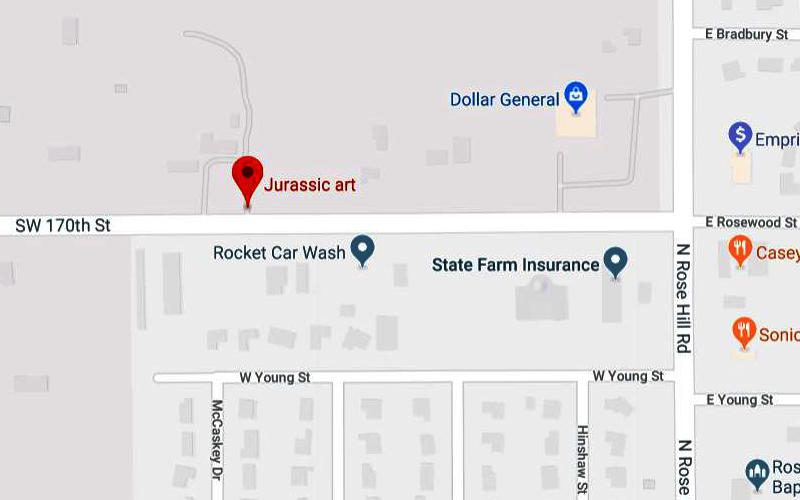 Jurassic Art Map
copyright 2019 by Keith Stokes