Schermerhorn Park, Schermerhorn Cave & Southeast Kansas Nature Center

3501 South Main Street
Galena, Kansas 66739
(620) 783-5207

Nature Center Hours
Tuesday - Saturday: 10AM - 3:30PM Sunday: 1PM - 3:30PM
During COVID: by appointment only
Schermerhorn Map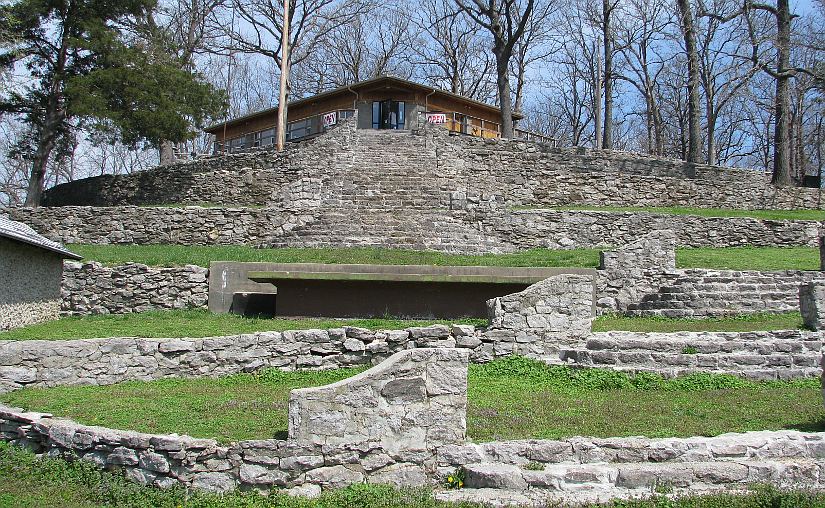 Southeast Kansas Nature Center at top of hill
Schermerhorn Park and Southeast Kansas Nature Center in Galena, Kansas traces its founding to the 1922 donation of land on Shoal Creek for a city park. In the 1930s and '40s the Works Progressive Administration (WPA) built Schermerhorn Park's stone terracing, walls and other structures.
Schermerhorn Park is home to some of the rarest animals in Kansas. Schermerhorn Cave and the spring that flows from it are the home to grotto salamanders, dark-sided salamanders, cave salamanders, and the graybelly salamander. Rare species of mussels, such as Neosho Mucket and Rabbitsfoot can be found in the adjacent Shoal Creek.
Although Schermerhorn cave is nearly a 1/2 mile long, the entrance is blocked with a steel gate to protect the habitat. Only the twilight zone of the cave can be seen from a platform at its entrance.
The park is part of the 55 square mile section of the "Ozarks of Kansas" formed by the geologic feature, the Ozark Plateau, that is in the very southeast corner of Kansas. This region with its caves, sinking streams, and sinkholes is made of Mississippian limestone which was deposited over 300 million years ago.
The Southeast Kansas Nature Center has more recently added the old Scout cabin. It has animal and plant exhibits, exploration drawers, and displays which help visitors enjoy the adjoining park grounds, trails, cave and creek.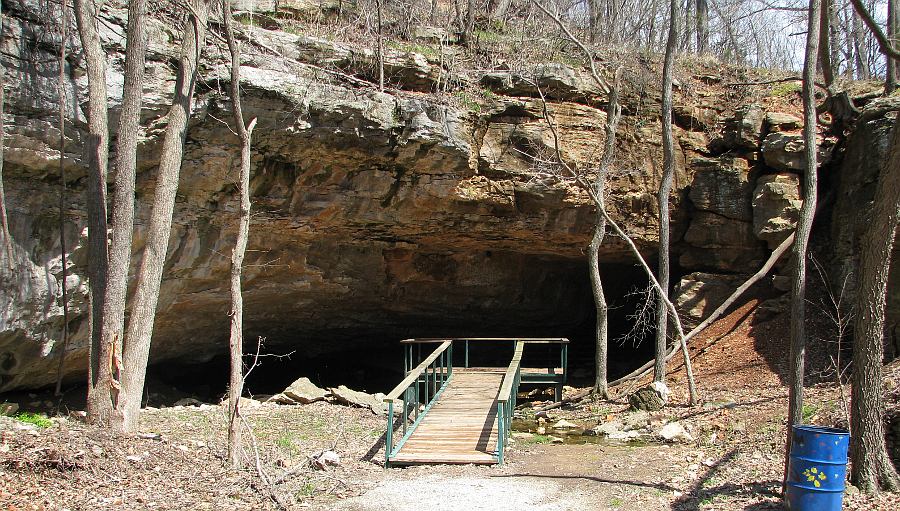 Schermerhorn Cave and viewing platform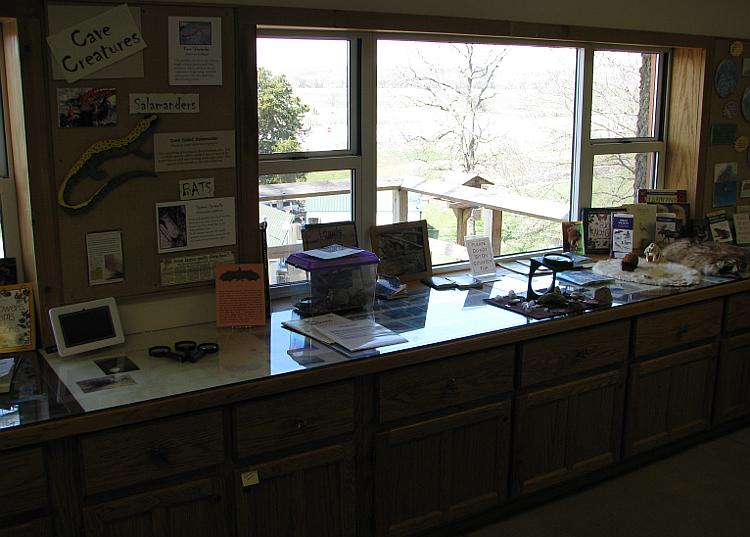 Learning stations with "exploration drawers" in the SouthEast Kansas Nature Center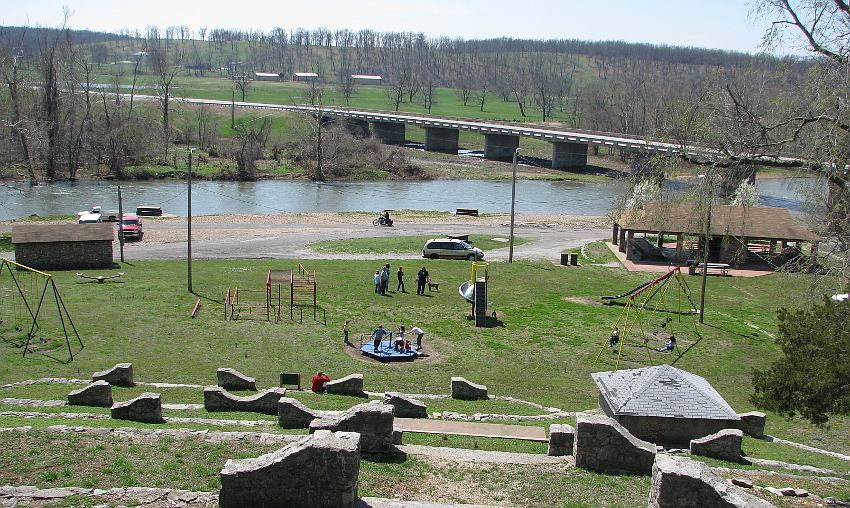 Schermerhorn Park's picnic tables, cooking areas and playground are located along the Spring River, just inside the park entrance.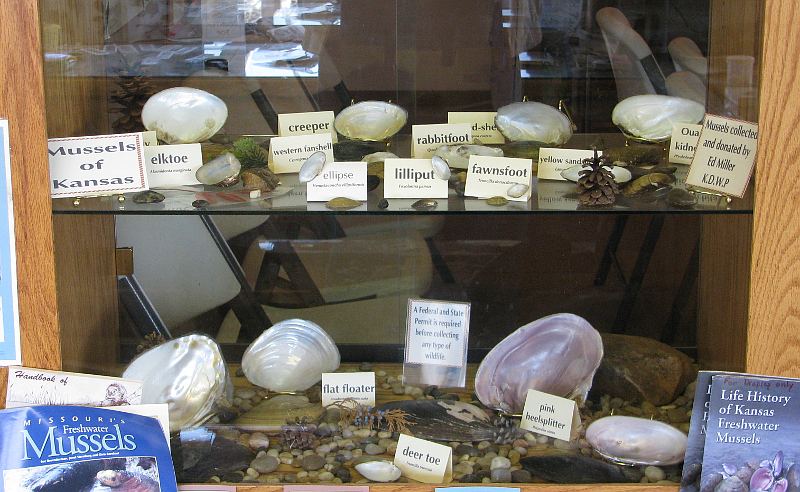 Kansas mussels exhibit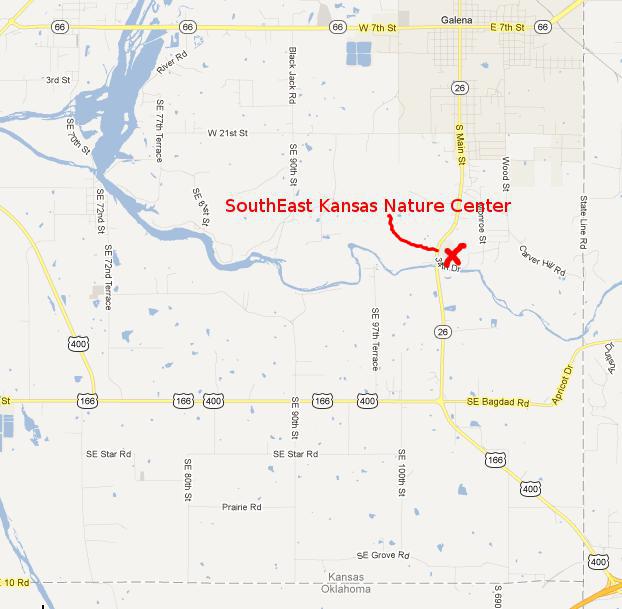 Schermerhorn Map
Route 66 in Kansas
Galena Galena 2 Riverton Baxter Springs Empire Power Dam Falls
Cars on the Route Galena Mining and Historical Museum Eisler Brothers Store
Baxter Springs Heritage Center Decades of Wheels
Schermerhorn Park & Southeast Kansas Nature Center
LS-10/12 copyright 2008-2020 by Keith Stokes