| | |
| --- | --- |
| Kansas Geologic & Archaeological Attractions | Castle Rock Badlands in western Kansas |
The Smoky Hills of western Kansas contain outcroppings of several types of stone from the Cretaceous Period. The region is mostly relatively flat, making the scattered locations where Niobrara Chalk and Dakota Sandstone are exposed more dramatic. Most of the interesting features lie within a few miles of the Smoky Hill River.
Another deposit from the Cretaceous, Greenhorn Limestone, has provided the building material used to create many of the region's most interesting buildings, including the Cathedral of the Plains and the Garden of Eden. The limestone is also used to make the post rocks that help give the region much of its character.
The Dakota Sandstone is the oldest. It was formed from sediment from rivers emptying into the seas that covered western Kansas. The younger Greenhorn Limestone and youngest (70-80 million years) Niobrara Chalk were formed by sediment in deeper portions of the sea. Both have given up many interesting fossils, but the Chalk made of the shells of uncounted trillions of single cell golden brown algae provide some of the world's most spectacular fossils.
Learn more about the geology of Kansas at the United States Geological Survey and from Kansas Geological Survey.
| | |
| --- | --- |
| The Arikaree Breaks are located in the extreme northwestern corner of the state of Kansas. The breaks, with its deep ravines and gullies, is in marked contrast to the plains generally associated with the area. The breaks were formed by wind deposited sand, silt and clay particles, called loess. | |
| 1,818 acre Big Basin Prairie Preserve Wildlife Area is owned and managed by the Kansas Department of Wildlife and Parks. The Big Basin which is named is a mile wide sinkhole of "sink" which is more than 100's feet deep. Big Basin and other nearby sinks were formed thousands of years ago by the dissolving and collapse of massive gypsum and salt formations which were several hundred feet below the surface. | |
| The Cedar Bluffs are the most striking feature of Cedar Bluff State Park south of Ogallah, Kansas. The 100 feet tall limestone cliffs on the south side of Cedar Bluff Reservoir are stunning, particularly near sunrise or sunset. | |
| Castle Rock & Badlands is about 12 miles south of Quinter and Collyer, Kansas. The Kansas countryside gets much wilder as soon as you get away from I-70. This interesting chalk formation is on private range land. The two rut path leading back from the dirt road is quite rough, portions of the track having up to 18 inch deep ruts. It takes some careful driving, but you can do it in a car, but a SUV or light truck works much better. | |
| The Chalk Pyramids or Monument Rocks are names for the same group of rock outcroppings, between Oakley and Scott City in western Kansas. The 70 feet tall sedimentary formations of Niobrara Chalk were created 80 million years ago when this area was part of a vast inland sea. They are on private land, but open to the courteous public. | |
| The free El Quartelejo Museum in Scott City, Kansas has exhibits about the Monument Rocks and the area's fossil history. Children can "dig" for fossils in a sandbox | |
| The Fick Museum in Oakley, Kansas shares a building with the community library. The museum is free (donations) and has a number of interesting large fossils from the area, many old tools, mineral specimens and folk art. | |
| The Gypsum Hills (also known as the Gyp Hills) are a region of rolling hills, mesas, canyons and buttes in central Kansas, just north of the Oklahoma border. The area has many red cedar trees and the ground contains iron oxide or rust, hence one of the area's other names, the Red Hills. | |
| The Johnston Geology Museum at Emporia State University in Emporia, Kansas is free, and open whenever the school is in session. The museum contains bout 50 cases of geology specimens, fossil displays, and Native American artifacts that are well laid out and have interesting and informative descriptions. | |
| Located in a 1916 limestone church, the Keystone Gallery between Scott City and Oakley, Kansas is a combination of art gallery, fossil museum and souvenir shop. The Bonner family has been fossil hunting since 1928 and used to lead the public on fossil hunting & camping tours in a 1949 Chevy Suburban. | |
| The highly anticipated Little Jerusalem Badlands State Park opened on October 12, 2019. It is a mile long jumble of 70 feet tall sedimentary formations of Niobrara Chalk which were created by the erosion of the sea bed which formed during the Cretaceous Period, 80 million years ago. Kansas' newest state park is located midway between Oakley and Scott City, Kansas, just a few miles west of Monument Rocks. | |
| Like the better known and larger Chalk Pyramids (or Monument Rocks) the Little Pyramids north of Scott City, Kansas are sedimentary formations of Niobrara Chalk. | |
| At 4,039 feet above sea level, Mount Sunflower is the highest point in Kansas. It is located at the far west side of Kansas on the Harold Family Ranch in Wallace County. Mike and Mae Marie (Harold) Jones invite visitors to enjoy Mount Sunflower, but ask that you treat Mount Sunflower as you would treat your own property. | |
| Mushroom Rock State Park near Marquette, Kansas has Dakota sandstone concretions much like Rock City, but here most are not nearly as exposed. The resulting combination of rocks sometimes have a mushroom shape. The unusual shapes caught the imaginations of the Native Americans and pioneers, some of whom have left graffiti in the softer sandstone. | |
| Rock City near Minneapolis, Kansas is a tiny park which contains about 200 huge Dakota sandstone concretions. The spheres are up to 27 feet in diameter and you are encouraged to climb on them and do pretty much whatever you want. They claim that there is no place else in the world with so many huge concretions. | |
| The Sternberg Museum of Natural History at Fort Hays State University in Hays, Kansas displays a small portion of the University's 3,750,000 specimens and recreates the Kansas of 70,000,000 years ago with life size displays. | |
| Originally called the Kansas Underground Salt Museum, Strataca in Hutchinson, Kansas is unique in the western hemisphere. Although there are some similar salt mine museums in Europe, there are none in the Americas. And there are just 15 active salt mines in the United States. | |
| The University of Kansas Natural History Museum & Biodiversity Research Center in Lawrence, Kansas offers 4 floors (1 up and 2 down) of natural history exhibits in a hundred year old limestone building. | |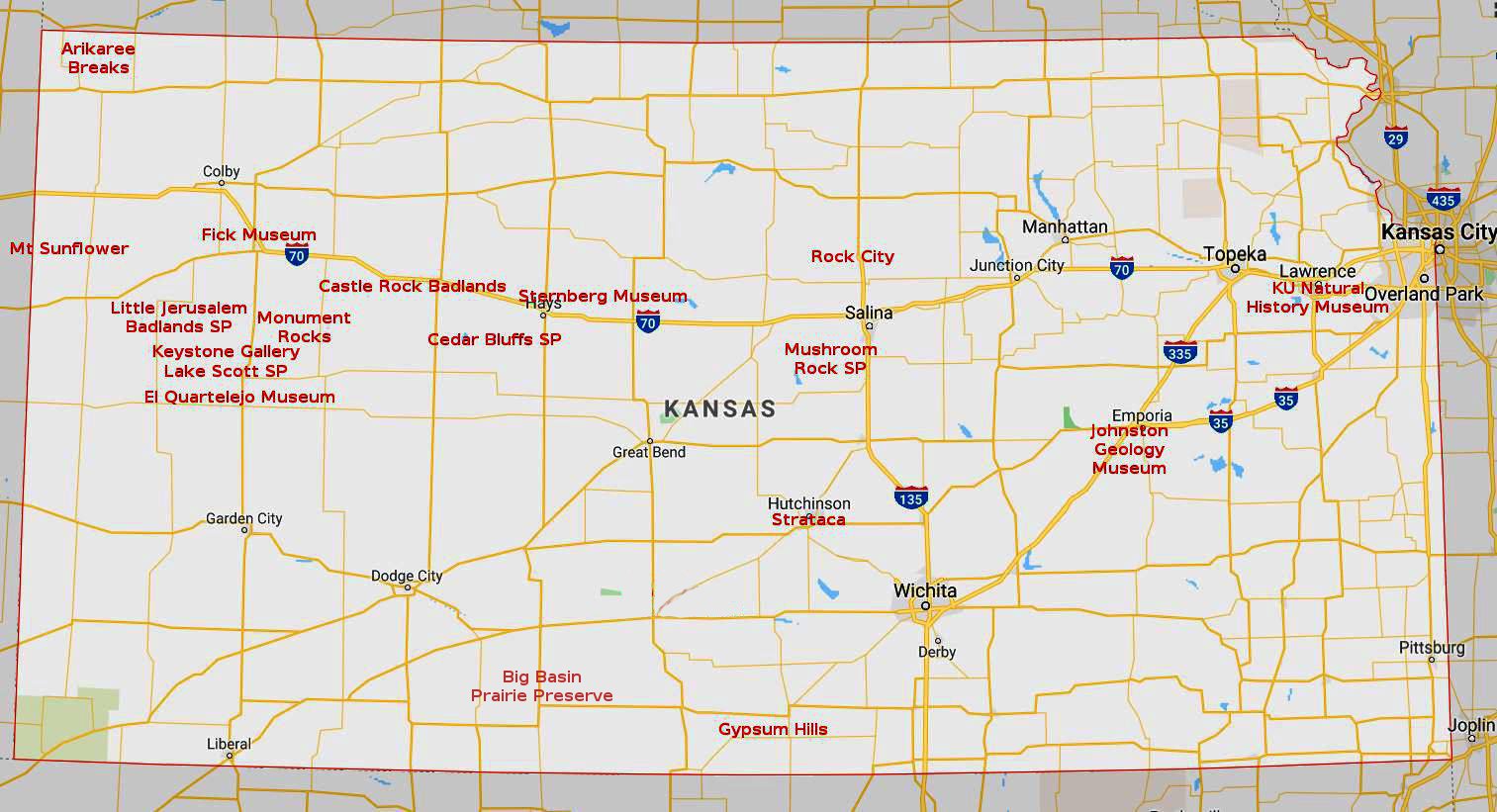 Map of Kansas Geologic and Archeological Attractions
LS-3/15 copyright 2005-2020 by Keith Stokes