Saturday - July 27, 2013: Amy, Mary and Linda joined me for a half day of exploring northeast Kansas on Saturday.

We started with lunch at Homer's Drive In, in Leavenworth, Kansas. Leavenworth has many good, local restaurants and I do not get up there often enough. It had been about 6 years since my last stop at Homer's, which has been open since 1931. It is more of a drive through than a drive in. For service in your car, you pull up next to the restaurant and someone comes out to get your to-go order and brings it back out. If there is more than one car at a time, they form a column.

We sat inside and were the only customers at 1PM, but by the time we left, every table in the small dining room was full. The burgers, fries and onion rings were all good, but not great. The standout was my country fried steak sandwich, which was as good as I have had.

After showing Amy a bit of the old downtown, we continued north to Atchison, to the Cray Historical Home Museum. Although the museum was established in 1978, it was closed for renovations during the years when I made repeated trips to Atchison to visit all of its attractions. The 25 room 1880 Victoria mansion is very ornate and nicely furnished. We were taken on a tour of the home where we were told a bit more than we needed to know about who donated which item, but it really was interesting.

As with most old Atchison homes, there is a ghost story about the museum, but it is about the gift shop in the carriage house, rather than the main building. When the possessions of the late founder of the museum were moved from the carriage house and it was turned into a gift shop and projection room, ghosts reportedly messed repeatedly with the videotape and speakers. That only stopped after some of the those possessions were placed on display in the top most room of the home's imported Scottish tower.

We then headed west for the center piece of the trip - Joe Tinker Day in Muscotah, Kansas. Tinker was a Chicago Cub and part of the early 1900s double play combo of "Tinker to Evers to Chance," which was immortalized in the poem, "Baseball's Sad Lexicon." He was born in Muscotah and the town of 200 people is developing that bit of history. They are in the middle of building a baseball museum, which will go inside their recently constructed World's Largest Baseball. On this anniversary of the Hall of Famer's birth, they had an 1860's rules ball game between the Hodgeman 9 Baseball Club and the Cowtown Vintage Base Ball Club. There must have been 500 people there, including some of TInker's decedents.

We did a little wandering on our way home, but finally returned to Leavenworth for supper at All Slabbed Up, a roadhouse style BBQ restaurant this is a little over 2 years old. We were all impressed with the food. Mary said that if the restaurant was closer to us, it would be her favorite BBQ place. I sampled pork ribs, burnt ends, brisket, pulled pork, fresh cut fries and baked beans. Every dish was above average, with the burnt ends, ribs and beans being my favorites.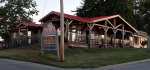 All Slabbed Up
Sunday - June 28, 2013: afternoon we saw a second baseball game. Mary's friend Stefani and her fiancee, Paul, joined us at the Kansas City T-Bones game in Kansas City, Kansas. The T-Bones are in the Central Division of the American Association of Independent Professional Baseball. This game was versus the El Paso Diablos.

The T-Bones didn't have a very good game (lost 5-0), but I had a good time. We had fabulous seats. Padded seats right behind the first base dugout (we could put our feet up on the dugout) where we could see and hear all the little details of the game. The tickets were only $16 each!

It was a gorgeous, unreasonably cool afternoon (in the 70s). The food was typical ballpark fair, but a little less expensive than in KC's major league ballpark. My favorite item was a cooked to order rib eye sandwich which was served with sweet potato fries around and in the sandwich.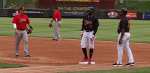 KC Royals' Hall of Famer, Frank White, coaching first base