Saturday - April 11, 2016: We headed west from Pittsburg, pausing briefly to take photos along the way. The first planned stop of the day was Circle's Pecans & Country Store in McCune. The Circle family's pecan orchard and retail store had been on our list of spots to check out for some time. In addition to pecans and walnuts, there were jams, jellies, homemade pies, cookies, fudge, canned fruit, and a small selection of meat & cheese. They also serve deli sandwiches. We bought a number of items to enjoy during the trip and later.

Our next stop was to photograph a waterfall created by an overflow dam on the Neosho River south of McCune. We first tried approaching from the east, but the road that Google Maps shows, no longer exists. We were able to reach it from the west.

From our spot below the dam, we could also see the abandoned Neosho Steam Electric Station Bridge, farther south. The railway bridge was constructed from parts from other, older bridges in 1953, but has not been used for many years. The approaches have been removed and people are not permitted to approach the bridge from land.

Continuing west, we toured the Parsons Historical Museum and adjacent Iron Horse Historical Museum. Before going in, we admired two rows of purple martin houses, between the museum and the street. The sign for the museums, also proclaims that Parsons is the "Purple Martin Capital," though we haven't been able to find much else about that elsewhere.

Much of the Parsons Historical Museum will be of primary interest to people who live in Parsons, but there is MKT Railroad memorabilia and there is a sandstone paving rock, which was the stepping stone into the cabin of the Bloody Benders. I found the most interesting exhibit to be a collection of photos of famous residents of Parsons or southeast Kansas.

The Iron Horse Museum houses its collection in a replica of a Katy Missouri–Kansas–Texas Railroad depot, reproducing the appearance from about 1900. There is also a MK&T locomotive, caboose and a few other railway cars.

Before leaving Parsons, we photographed a number of attractive older buildings, including the magnificent First Presbyterian Church. Wish the church had been unlocked so we could photograph the interior!

Lunch was at the St. Paul Cafe, which had been recommended for our Best Kansas Burger page. It doesn't quite make the top 10, but they serve one of the best burgers in the state. I often kid my wife that we can't go anywhere without seeing people she knows. We were only there a few minutes when one of my step-daughter's classmates from grade school came in with her mother. It took a while to remember the names, but we said "hi" as we were getting ready to leave.

We made it to the Osage Mission - Neosho County Museum before it closed for the day at 2PM. The museum sits across the street from the site of the original Osage Mission, where the beautiful 1884 Saint Francis de Hieronymo Catholic Church is located today. The museum provides Neosho County history, particularly that of the early mission.

A recently built separate building house about 60 taxidermy specimens and head mounts which were hunted by a local resident, John Born, who recently passed away. There were several other buildings on the museum grounds that were not open, including the Lone Elm School, a one room school house that operated from 1867 through 1951, and a building with signs saying it is a blacksmith shop and harness shop.

We drove on to Erie, to revisit Erie Dinosaur Park, where the grassroots art of Robert Dorris was moved a few years after his death. This is one of the two days a month that the park is open, but even at the times it is closed, most of the amazing collection of dinosaur skeletons created from old car parts can still be viewed.

Putting a lot into one day, we turned back to Parson, where a new art instillation by Stan Herd is in progress. Having so many of Herd's finished works such as the Amelia Earhart Earthwork in Atchison and Prairiehenge near Sedan, it was seeing the Indian head and turtle limestone sculptures being erected.

Heading south, we finally made it to the principle goal of this trip, Fairview Cemetery in rural Fairview Township. This cemetery came to our attention when a second cousin, once removed, of President Obama, recently placed a headstone on the graves of their mutual ancestors' graves. Fulmoth and Charlotte Kearney Graves were President Obama's Great-great-great-grandparents.

We continued on to Riverside Park in Independence, where we photographed as diverse landmarks as a replica of the U.S.S. Saint Paul, a life size Corythosaurus (dinosaur), and a carousel.

We spent the night at the Appletree Inn in downtown Independence. The modest independent motel is very comfortable and a good value. It is our go to motel in Independence.

From the hotel, we walked a couple of blocks to have supper at the latest incarnation of Uncle Jack's Bar & Grill. We discovered the original Uncle Jack's in 2008 and it was one of my favorite restaurants. That restaurant closed in 2009 and today's restaurant (while occupying the same space, is quite different. The current version of the restaurant is still a decent place to eat, if not the special, unique restaurant which it once was. We had the filet and the ribeye, and were satisfied with our meal.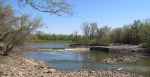 Neosho River overflow dam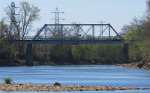 Neosho Steam Electric Station Bridge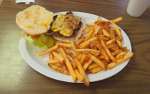 Cheeseburge with grilled onions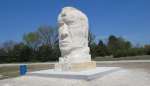 Stan Herd stone head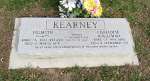 Kearney Grave
Sunday - April 12, 2019: After spending Saturday night in downtown Independence, Kansas, I had 3 dam/falls lined up to photograph on Sunday. My wife's sharp eyes spotted a fourth while we were driving, so we ended up photographing 4 falls.

The first overflow dam was on the Verdigis River in Independence. I had photographed it before, but at that time there was so much water that the dam and falls were almost invisible.

The second falls was in the Elk City Lake spillway and looked more like a rapids. It may look more like a waterfall when the water flow is lower. Still, it is a pretty spot with a couple of large boulders in the middle of the spillway. One of them is very large and shaped a little like a walrus.

The third falls was on the Fall River, just west of Neodesha (this is the one we spotted while passing on US-75), and the fourth was on the Fall River, west of US-400, about 5 miles north.

Lunch was at one of the few places open on Sunday in the area we were visiting and turned out to be the best meal of the trip. Tri-Corner is a combination Restaurant, Bait & Convenience Store located a mile off Highway 400 on the way to Fall River Lake near the town of Fall River, which has a population of only 162. You enter the restaurant through the bait shop and the coolest thing may be that the dinning room looks out on a field filled with cattle.

On Sunday the special is fried chicken, but they don't cook allot of the chicken and if you want to make sure there will be chicken for you, you should call before 9:30AM and they will but your name on a serving. We had called and reserved a breast for Linda.

The pan fried chicken is good and a meal is a cheap as most people would spend to make it at home - $7.50 for a leg quarter, large serving of real mashed potatoes & gravy, vegetable, a mini loaf of homemade bread and tea or coffee. The breast was another dollar.

The double bacon cheeseburger and home fried potatoes were good enough to make my best Kansas Burgers list, even if there only 10.

The owner spoke to us as we were finishing the meal. As we chatted, we learned that his wife (who was out of town that day) went to school in Topeka with my wife and graduated with her brother. Like I said yesterday, we can't go anywhere without seeing people she knows.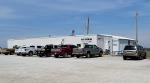 Tri-Corner Restaurant, Bait & Convenience Store