Saturday - April 1, 2017: We revisited the ABC Café in Overland Park, Kansas this evening to update its review in the Overland Park Restaurant guide. Although every table was occupied, a couple left just after we arrived and we were seated shortly. That was good, as there is really no space to wait for a table to open inside the restaurant.

The first thing we learned was that the restaurant is now closed two days a week (Tuesday & Wednesday). In the past, it was closed only on Tuesday. There have also been several small changes in the menu and prices have also gone up. Unfortunately, our photos of the new menu did not come out well enough to use for our update. I guess I will just have to eat there again:-)

We sampled the Stuffed Egg Plant, Beef Short Rib with Black Pepper, Seven Flavor Mushroom, Chicken Dumplings and Shrimp Fried Won ton. The check came to only $23.65 with tax.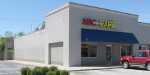 ABC Café
Friday - April 7, 2017: Mary joined us in paying a second visit to Antojitos Del Peru Peruvian restaurant in Lenexa, Kansas. We had a seafood stew, steak and two appetizers - fired yucca and papa rellena. The papa rellena is only available on weekends and is described at mashed potatoes filled with sautéed ground beef, hard boiled egg, olives and raisins, rolled in seasoned potato flour and deep fried - served with creole sauce. Unfortunately it was almost all mashed potato, with one olive, a tiny bit of meat & egg, and no raisins or creole sauce. Much as I like the idea of this restaurant, the dishes we have sampled in our two visits have been bland and not nearly as appealing as they sound and look on the menu.

The "Cau Cau De Mariscis" pictured at the right is fresh mixed seafood and potato stew that looked and sounded good, but had little flavor. I really wanted to like this dish, but it did little for me.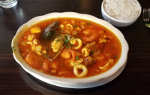 Cau Cau De Mariscis
Saturday - April 22, 2017: About 20 people who participate in Roadfood.com, from across North America, are in town for 4 days of the "2017 Kansas City Roadfood Crawl." I can't eat at the pace these people do, but did join them for 6 of the Kansas City restaurants where they ate today. This site already has pages devoted to 5 of those 6.

After they had breakfast at 3 restaurants in the Kansas City, Missouri City Market, I caught up to them at Danny Edward's BLVD BBQ, the first of the BBQ places they visited this day. I ordered 3 ribs and fries, enjoying one of the ribs and the fries, while putting the other two ribs in the cooler I had brought along. After we ate, Danny gave us a short tour of his Ole Hickory Pits Smoker.

Next up was food to go from two places which are about 4 blocks apart in Kansas City, Kansas: Tacos from Bichelmeyer Meats and fire gilled chicken from El Pollo Rey, which we took to Shawnee Park for sampling and about a half hour of conversation. Most of the people participating in the crawl have done several of these events and have come to know each other well. I was active at Roadfood.com years ago, but recognized only a few names and had only met one of these people before, but they were all welcoming and I enjoyed the 6 hour tour of KC dives with them.

After a short intermission, we moved on to The Lunch Box, about 150 feet from the State Line in the West Bottoms of Kansas City, Missouri. It is basically a small liquor store which serves deli sandwiches. I sampled about 1/6 of pork tenderloin sandwich and 1/2 of a Mexican Hot Dog (deep fried Nathan's hot dog topped with bacon, ketchup, mustard, jalapeno, diced tomatoes, with grilled onions and peppers). They are better known for the tenderloin, but I was impressed with the hot dog. The deep fry gave the dog a slightly crispy texture that made the sandwich.

Weird Stuff Antiques, adjacent to The Lunch Box, is interesting eclectic mix of classic cars, collectibles, vintage motorcycles, trailers, bicycles, pedal cars, motor scooters, coin operated devices, musical instruments, oversized items, furnishings, neon signs ...

Our caravan drove across Kansas City to another great BBQ restaurant, LC's BBQ. I had the 5 wings and thick fresh cut fries. The fries and smoky wings work well with the sweet, spicy sauce.

Then south and back across the state line to Brobeck's BBQ in Overland Park where I had only a little of the smoked ham salad & house made barbecue potato chips. I picked up more ham salad for our house and both of my step daughters.

At this point, BuddyRoadhouse, who was one of the principle organizers of the long weekend, called an audible and the next two places were dropped from the days tour. There were still two more stops, but they would be in the evening, 3 hours later, and I dropped out of the rest of the day.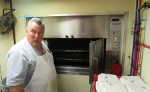 Danny Edwards & his Ole Hickory Pits Smoker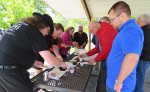 Shawnee Park Picnic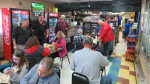 The Lunch Box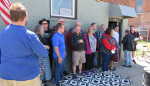 Road Food gang outside Weird Stuff Antiques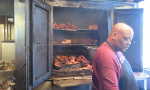 LC's smoker