Friday - June 12, 2015: I made a revisit to Sam's Tastee Treat in Olathe, which began as a Tastee Freeze in 1963. I was going to eat here a couple of weeks ago, but had forgotten that they take cash only. Sam's has been up for sale for several months, but apparently that has not happened so far.

This neat old place is more about the atmosphere and the history, than the food. I had crab Rangoon and a double cheeseburger. Both were fine, but they don't stand out above other places.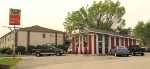 Sam's Tastee Treat
Wednesday - June 24, 2015: Lunch was a revisit of Jon Russell's Kansas City Barbeque in Overland Park. It has come a long way since it first opened in 2012. The Wednesday special at Jon Russell's Barbeque is 6 whole wings & a side dish for $10.95 (up from $8.95 when they opened). The wings are spicy from a dry rub and slightly crispy on the outside. I recommend them.

I've grown tired of all those "Ten Best" lists that are on the internet, but made up by people who haven't been to the restaurants. They are just made to attract people to look at ads and often have glaring mistakes.

In response, today I launched my own Top Ten Burgers in Kansas page. I've had every restaurant on the list at least twice, sometime many more times, and this is a genuine list. Not that I expect everyone to agree with me!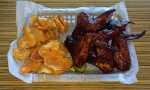 Chicken wings at Jon Russell's Kansas City Barbeque
Friday - June 26, 2015: Tonight I traveled to the Sprint Center in Kansas City, Missouri for an exhibition basketball game between the USA and Canadian World University Games teams. The Kansas Jayhawks, plus two extra players, are representing the United States in the games which will be held in Korean next month.

This both a chance to get used to the international rules and a chance to generate money to pay for travel to Korea. Kansas/USA won 87-76.

This the first time I have been this close to the court at a KU game!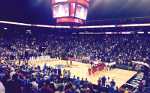 Listening to the national anthems