Saturday - December 1, 2012: This morning we drove to Lawrence, Kansas for the 20th annual Lawrence Old-Fashioned Christmas Parade. The parade is all horses, mules, ponies, wagons. No motorized entries or bands. The was a large crowd along Mass Street, and there were multiple reviewing stands so that each block had its own announcer. It was a large parade, taking 50 minutes to pass even at its fast pace.

The photo at the right is of the Saddle and Sirloin Club in Kansas City, Missouri.

We followed the parade with lunch at Queen Lizzy's Fish & Chips, a half block off Mass. It was the second time we tried it and possibly the last. It wasn't bad, but it wasn't outstanding and Lawrence has many great locally owned restaurants. The staff is very friendly, but seem easily confused.

Before leaving town, we stopped by Festival of Nativities at Centenary United Methodist Church. The annual event displays about 400 nativities. It is open on Saturdays and Sundays in Advent, plus Christmas Eve.

I drove to Topeka in the evening on my own, checking out the homes on the Topeka Christmas Light Tour. Most displays remain from 2011. This year's theme of the Potwin Place Neighborhood Christmas Display is Potwin Comes A'Caroling. Two displays were added to the tour: Jacobson Family Christmas Display at 2332 SE Oakwood Drive; and a very impressive display at 2947 SE Virginia Avenue. The Virginia Avenue display had been on the tour for several years, but the loss of a family pet, shortly before Christmas, kept this home from being decorated in 2011. It is back better than ever in 2012.

Supper was at the 1948 Bobo's Drive In. It was my chance to finally try the Spanish Burger, which Guy Fieri describes as "kinda like a sloppy joe but without being ground up." It was pretty much a basic burger with the sweet house Spanish Sauce.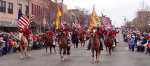 Christmas Parade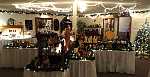 Festival of Nativities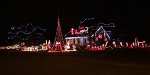 Staniec Holiday Light Display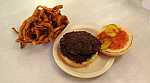 Double Spanish Burger and onion rings
Tuesday - December 4, 2012: We continue to update the Kansas City Christmas Light Tour. Tonight we revisited last years displays in Overland Park and Leawood. On a hunch, we revisited a display from 2019, which had not been up in 2011, and were delighted to discover that the Fisch Family Santa Claus Airport on Pawnee Lane in Leawood is back this year. Even better, there is another large display by the Trossen Family, just a few doors away.

Both families are already working on a combined display for 2013.

We had supper at Gates & Sons Bar-B-Q on State Line Road in Leawood. The food was unchanged since our last visit at this time in 2011, but the staff was not greeting customers with the trademark, "Hi, may I help you?"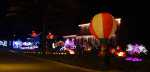 Santa Claus Airport