Saturday - June 2, 2018: We had lunch in Topeka, Kansas at Black Dog BarBQue in the same building at Historic Harley Davidson. The restaurant is also called "Henry's BBQ Grill" in honor of Henry Patterson, who opened Topeka Harley in 1949 and passed away in 1999. The small counter service restaurant is only open for lunch on Tuesday-Saturday, 11AM-2PM and for breakfast on Saturday from 8-10:20AM.

The menu is very limited, 4 sides and 3 meats, plus a daily special. This was Saturday so the special was pork ribs. The meat didn't taste smoked and didn't stick to the bone. The cheez 'n taters was better and the best part of the meal was the brownie.

On the way out of town, we found a beautiful, large mural at the intersection of Huntoon & Lane. Titled "Tennessee Town," it tells the history of the surrounding neighborhood, which was settled by freed slaves from Tennessee after the Civil War.

The day concluded with a drive south through Lyndon to Chanute.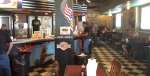 Henry's BBQ Grill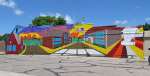 Tennessee Town Mural
Saturday - June 16, 2018: I revisited several of our favorite places in Kansas City, Kansas today, starting with lunch at Jarocho Pescados Y Mariscos, my favorite place for seafood in the metropolitan area. The food is prepared much as it is in Veracruz, Mexico.

I started with the grilled baby octopus appetizer and went on with the Filete de Pescado Relleno (Fish Fillet stuffed with garlic, onions, Spanish octopus, shrimp and blue crab meat finished with a touch of cream and cheese). It was more food than I should have had, but it was all so good!

Following lunch, I visited two of the places from our Guide to Kansas Specialty Food Stores. First was Bichelmeyer Meat Market, where I bought one of my past favorites, the old world Polish sausage, and a couple of items I have not had before, the beef bacon and the rib bacon. All are house made and the bacon was sliced to order from large pieces of bacon from the case.

After placing them in the color, I went to Krizman's House of Sausage in the Strawberry Hill neighborhood. In addition to my three favorite items from previous visits (bratwurst, Italian sausage and smoked Polish sausage), I got two items to try for the first time, the lamb sausage and an apple strudel.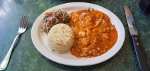 fish fillet at Jarocho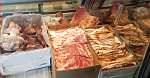 bacon at Bichelmeyer Meat Market