Thursday - December 5, 2019: After checking on Johnson County Christmas Displays on 5 straight nights, we drove to Topeka, Kansas, where Dean joined us in checking out all of the displays from the 2018 Topeka Christmas Light Tour. We started with the north Topeka displays, where all but the handmade Stang Family Nativity were back up for 2019.

We stopped at Cooks American Cafe for dinner. It was a good meal, but we didn't think it was the special experience we were hoping for. I was particularly disappointed when it turned out that that the pies were not made in house, but it turned out that they come from Golden Boy Pies in Overland Park, Kansas.

Back in the car, all of the other displays from last year were up. The Goodrich Family Christmas Display on Lincolnshire Court was substantially smaller this year, but is still large enough to remain on the tour. This year, the Cortez Holiday Light Show has added the home across the street. The program started in 2008 and has grown into one of the nicest music and light shows which we have seen.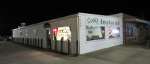 Cooks American Cafe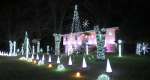 Cortez Holiday Light Show
Saturday - December 7, 2019: We drove to Lecompton, Kansas to Lecompton, Kansas where more than 110 Christmas trees decorated with antique, vintage or themed ornaments and lights are on display through January 1st at the Territorial Capital Museum. We particularly liked those trees which had ornaments of the same style from the same time period, as well as info on the history of that style.

Before leaving Lecompton, we took fresh photos of Constitution Hall and Territorial Democratic Headquarters.

Driving on the Lawrence, we had a quick supper at Biemer's BBQ. I had both chicken wings and burnt ends. Both were great. Then on to Allen Fieldhouse to watch the University of Kansas Jayhawk's beat Milwaukee 95-68.

We followed the game with a visit to all of the displays from last year in the Lawrence Christmas Light Tour.

On our return to Johnson County, we checked out the Eudora Christmas Displays. All of last years displays are back, plus a new "ditto" sign at a home which is between three other homes with huge displays.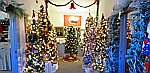 Territorial Capital Museum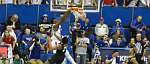 Udoka Azubuike scores

Ditto House
Thursday - December 12, 2019: Tonight was the 13th consecutive night that we visited Christmas Light Displays to update and expand our Christmas Light Tours.

We started the night with supper at Basil Leaf Cafe. It was the first time we have dined at this Italian restaurant, which has been on our list to check out for some time. I had lasagna and Linda had shrimp scampi. Both meals were excellent and the price was great at $33 for the two of us before tax and tip. I don't know that this restaurant can make our Unique Kansas Restaurant List, but I definitely want to eat here again.

We checked on one display in Lawrence which we accidentally omitted last week, then continued to Topeka, where several new displays had been recommended for the Topeka Tour. While checking out the lights at 3312 NW 33rd Terrace, we found that the neighborhood had a lot of attractive displays, including two more worth mention on their own.

Three of the other four homes which had been recommended were worthy of inclusion in the tour, including an incredible Webster Avenue Deer Versus Snowmen Football Game between the "Deerheads" and the "snowballs,"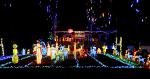 Deer Versus Snowmen Football Game