Tuesday - December 1, 2015: Linda and I made our first visit to Lawrence to update our Lawrence Christmas Light Tour for 2015. There are two new displays for the tour this year. The Fisher family have new animated show called Santa's Lights. From 2011-2013 their animated display on Stone Creek Drive was on the tour, but they have moved to Harvard Road and put up a new animated display featuring thousands of LED lights synchronized to music on 96.7FM.

Before checking Eudora Christmas displays on the way back to Johnson County, we stopped for supper at Bigg's BBQ in Lawrence. We had smoked chicken, sausage and burnt ends. All were fairly good, but not stand out. My favorite side dish was the deep fried corn on the cob.

The other new display is on County Road 1061 in Eudora, just a couple of blocks from the Lindeen & Musick Family Displays.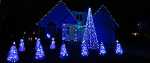 Santa's Lights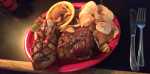 Bigg's BBQ
Tuesday - December 8, 2015: I drove straight to Topeka and had supper at "The Pad," which has been run by same family since 1961. It had been suggested for our Kansas Best Burgers list. It was good fast food and if I lived nearby, I would eat there occasionally, but it isn't had the level of the places on the list. The chili fries were particularly good.

Then is was a fast run through of the homes on our Topeka Christmas Display Tour. Most displays remained up this year and we now have two new ones, 2117 Southwest Morningside Road and 3919 SE 30th Terrace. The second one is a very nice animated display by Louie Cortez. Because we approached 1434 NW Harrison from a different direction than the past, I'm not sure if the wagon in the photo to the right was new this year, but it is quite cool.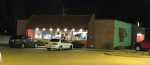 The Pad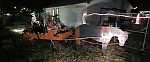 Christmas wagon