Saturday - August 3, 2019: We made several stops on the southwest side of Lawrence, Kansas, starting with lunch at Auntie Em's Deli & Bakery. In online reviews, we read many raves about the Reuben sandwich and I am a big Reuben fan, but thought it was a pretty typical sandwich.

There is a small area at the back of the restaurant (guarded by the Wicked Witch of the West, with a nice selection of canned (in glass jars) fruits and vegetables from Ohio.

Our next stop was to get more photos of the waterfall in the spillway leading from Clinton Lake, but because of flooding in Missouri, no water was being released from the dam.

We were headed to the Wakarusa River Valley Heritage Museum, on the far side of Clinton Lake and were a little surprised to see highway sign after highway sign directing us to "Clinton Lake Museum." It hasn't been called that since 2008!

The museum is at the tip of a peninsula which juts into Clinton Lake from the southwest. The museum normally sits above a beach and park, but high water covers all of that and only the roofs were visible of shelters which are normally 200 yards from the shore. We watched someone kayak through what is normally a playground.

The 35 year old Wakarusa River Valley Heritage Museum is in an old cow shed, which was part of a farm, before the building of the lake. The museum. primarily about the 10 communities which once or now populate the Wakarusa River Valley.

A large portion of the modest museum, and the Freedom Rings" sculpture outside the museum, are devoted to the relationship of the Underground Railroad and the 10 communities which are or have been in the valley (Bloomington, Clinton, Kanwaka, Lone Star, New Belvoir, Old Belvoir, Richland, Sigel, Stull and Twin Mound). The adjacent museum has several exhibits devoted to the communities, the Underground Railroad and the people or were aided or helped aid them. The museum

We took advantage of being in the unincorporated community of Clinton, to stop at The Clinton Store, a convenience store and former gas station which was established in 1931. We knew that The Clinton Store occasionally serves food, but there is phone and we couldn't find the exact details online.

We now know that the "Poor farm pub" serves meals at The Clinton Store on Friday and Saturday evenings. There are different menus each night, but the menus stay the same each week. On Saturday and Sunday mornings, they serve biscuits and gravy.

We completed our circle of CLinton Lake before returning home.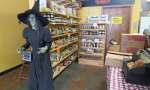 Auntie Em's Deli & Bakery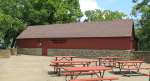 Wakarusa River Valley Heritage Museum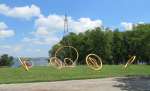 Freedom Rings