Wednesday - January 8, 2020: For lunch, I checked out Oscar's Authentic Mexican Grill in Olathe. The two year old restaurant in a strip mall store front hadn't been on my radar, but as quietly accumulated a strong rating on Google and Yelp. The prices are extremely reasonable. A two taco meal with rice & beans, plus chips and queso, totaled only $8.08 plus tax.

I enjoyed the chips, queso and refried beans. The tacos didn't impress me, but perhaps the carnitas wasn't the best choice. I plan to try Oscar's again later this month.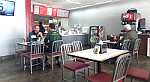 Oscar's Authentic Mexican Grill
Friday - January 10, 2020: I revisited Patrón Pollo N Beef in Olathe for lunch today. The food truck on Santa Fe Street has a very loyal following. Originally named Pollo Patrón, the name change was in April 2018, when they went to a larger truck and added Carne Asada to the short menu. I had the grilled half chicken meal with rice, charro beans, tortillas, salsa and grilled pepper for $9.90. I really would have been happier with just a half chicken, none of the side dishes did much for me and with the exception of the grilled pepper, I didn't have more than a bit or two of anything else.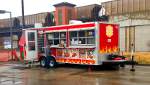 Patrón Pollo N Beef
Sunday - January 12, 2020: A group of us made our last visit to Johnny's Hickory House Bar-B-Q in Mission, Kansas after church. Johnny White, who has operated the restaurant since 1977, is retiring and the restaurant will close on January 31.

The restaurant has been very busy, since announcing the closing last month, but we thought that the snow and ice left over from yesterday would keep the crowd down.

They were busy, but not overly so, but perhaps they were short of staff. 40 minutes was a long time to wait for the BBQ to come out. Everyone enjoyed their meals and it is reasonably priced. The chicken, which is smoked, then finished the fryer, was the most popular item today.

The Olathe location, operated by his son, will remain open.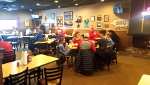 Johnny's Hickory House Bar-B-Q
Tuesday - January 14, 2020: I had lunch at Thai Rice by Ritzutto, in Olathe, which I discovered on Friday when getting food at Patrón Pollo N Bee. It has been open about a month.

Walking in, I noticed a fairly strong odor from incense and a slightly unpleasant underlying odor. I'm not sure if it was the incense or something the incense was trying to cover, but it was possible to ignore and it didn't harm the experience. The prices are reasonable at dinner, but nothing I considered a real lunch special. Most meals are $11-16 without beverage. There were three 3 pho noodle dishes under $10, but I'm not big on Vietnamese soup.

I ordered the $11.50 Ritzutto Special Stir-Fry, which is described as, "Our signature stir-fry with pan-fried bacon, garlic, and green cabbage slices. Deeply saturated in our super-secret sauce. Served with a side of steamed white rice."

While waiting for stir fry, the chef came out from the kitchen with three complimentary crispy spring rolls, which she explained were made with her signature sauce and served with more of the sauce on the side. I enjoyed it, but would have liked a peanut sauce instead the thin, slightly sweet signature sauce.

The stir fry came out and it was a very generous serving, largely cabbage with many small pieces of bacon. My first couple of bites were rather bland, but then I dipped the fork full in the sweet, slightly spicy sauce on the plate and enjoyed it much more. I had ordered hot, rather than Thai hot and that was a good level of heat for me. I don't think that Thai hot would be more than I could eat it, but it is about getting the right amount of heat, not trying to test limits. The serve brought out a spicy rack with four spicy options for adding more flavor or heat to the meal. I surprised myself, by eating all of the stir fry. I expected to be taking a box home when the plate first came out.

When my check was brought to the table, the server also brought a 3 ounce cup of Blue Bell ice cream and a wooden spoon. It was frozen very hard and couldn't be eaten with the wooden spoon until it had time to warm. I suspect most people take it home or back to work with them before eating.

On the way out the door, the chef stopped me and handed me a handful of small Kit-Kat in unfamiliar flavors. Kit-Kat was the only words in English and I don't know what flavor most of them were. Perhaps green tea. One was peach mint.

I look forward to returning to try their pad Thai.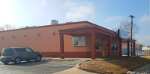 Thai Rice by Ritzutto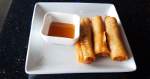 crispy spring rolls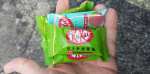 mini Kit-Kat bars