Saturday - January 2, 2021: We added a new page devoted to the Railroad & Mining Museum in Osage City, which we visited in October. The museum has not had regular hours for years, but Cathryn Houghton and Richard Youngers had agreed to meet us and showed us around. The highlights of the museum are the beautiful mission Spanish revival style depot, a large model railroad created by Richard Youngers and Santa Fe Park located across the railroad tracks just west of the depot.
Railroad & Mining Museum
Monday - January 4, 2021: With 3-4 inches of snow on the ground and a sunny day, I drove to Leavenworth National Cemetery in Leavenworth, Kansas to photograph the graves with Wreaths Across America in place. When I pulled in I saw no wreaths at first, then saw 3 or four. Continuing into the cemetery, it was obvious that Leavenworth had received less snow.

Near the Rest House I found a group of 13 graves with wreaths, but continued on until I finally found some areas with a hundred or a few hundred graves. It seemed like they were all in the areas with the least snow, but they were placed weeks before the snowfall, so that was only coincidence.

laid 3,924 wreaths this year and is down from almost 7,000 wreaths last year. There are over 36,000 graves in the cemetery.

I also visited nearby Mount Muncie Cemetery, in Lansing, just a few hundred feet away.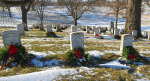 Wreaths Across America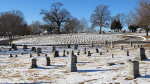 Mount Muncie Cemetery
Thursday - January 7, 2021: The combination of few eagles and COVID19 have resulted in the canceling of Milford Eagle Day, which was scheduled for this Saturday. The warm winter has kept the rivers and lakes farther north from freezing and there is less reason for the eagles to come this far south. Justice, the Bald Eagle, and Kamali, the Golden Eagle can still be seen in the Milford Nature Center when it is open.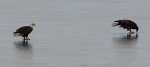 Eagles at Milford Lake
Saturday - January 9, 2021: We visited d'Bronx, a pizza and deli restaurant, to update its listing on our Overland Park Restaurant Guide. Due to COVID-19, food is only available by carry out. There are signs saying no more than two customers inside at one time, but some customers were ignoring that.

We had calzones and Reuben sandwich. The calzones traveled well, but the sandwich was a poorer choice for carry out. We are glad to see d'Bronx stay open and it appeared that business was steady.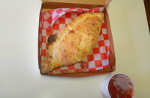 calzones
Sunday - January 10, 2021: We continue to update KC area restaurant information at this time of year when travel is less appealing, today we had curbside pickup from Blind Box BBQ in Lenexa which is included in our Kansas City BBQ Guide.

As expected, barbeque travels better than many cuisines and it was still quite good when we got it home. We had a smoked wing appetizer and a half chicken dinner with fries and street corn. Even the fires were still good after the 10 minute drive.


Half chicken dinner