Friday - April 6, 2018: At lunch, I visited Other Place American Sports Grill & Pizzeria in Olathe, Kansas to update its review in our Olathe Restaurant Guide. The Other Place has some great lunch specials like unlimited slices of one topping pizza and your choice of soup or salad for $7.99. The hand breaded country fried pork tenderloin is no longer offered at a discounted price a lunch, so I went with a 1/4 lb mushroom Swiss burger for $7.95, upgraded to onion rings for $2. The rings were very good, but the burger was well done, not the medium that was ordered and not a standout. I wouldn't go there for a burger.

We added a new page devoted to Memorial Park Cemetery in Hutchinson, Kansas, which has many chain-saw carved tree trunks and a Petland pet graveyard.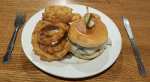 Saturday - April 7, 2018: Linda and I drove to Aladdin Cafe in Lawrence, Kansas for lunch. Aladdin Cafe has a review on our site, but the last time we dined there was in 2015 and a review may be completely wrong after that period of time. Really, Sunday lunch with its Mediterranean buffet is my favorite time to dine there, but that hasn't been working out.

We split a grilled shrimp & feta appetizer, which was described as selected feta cheeses, rosemary seasoned shrimp and grilled vegetables, but were a little taken aback when it arrived and had only a few small bits of feta, not what the description implied. Still, the shrimp was quite good.

We also split a meat kabob combo featuring lamb, kifta, beef, gyro and chicken kabobs with cucumber and potato garlic sauces, Again we were surprised with its appearance, the meat had been removed from the skewers. Most of the meat was good, but several individual pieces were badly overcooked. The cucumber sauce was good, but the potato garlic sauce was a potato puree with little flavor.

We went with two desserts - Baklava and Kunafa. The baklava with its layers of phyllo dough, honey and crushed walnuts not as sweet as some, which was fine with me. The serving was generous for $2.99. I have never had kunafa before, so I can't compare the sweet Arabian cheese topped with shredded phyllo. crushed pistachios and sweet sauce with others, but it was not very sweet. The $3.99 serving also seemed generous.

Our next stop was at The Museum of Odd, which is in a private residence a few blocks away, but there were no signs on the building and we decided to save it for another visit.

The next stop was the Murphy - Bromelsick House, which was constructed in stages from 1866-869 and moved 300 yards to this location in Hobb's Park in 2000. The back of the house has 4 or 5 doors of different sizes and at different elevations, all without steps. The main floor of the building is empty, but it appears that the basement may be used for storage.

We stopped at the Lawrence Visitor Center in the historic Union Pacific Depot to pick up research material for future trips to Lawrence, then went to the Kansas Riverkings Museum in the bottom floor of the Spring Hill Suites hotel on the Kansas River. "Museum" is a little misleading. There are just a few photos, a couple of tiny exhibits and a few small paintings which are offered for sale.

Our final stop was at the small children's cemetery at Haskell Indian Nations University. There are 103 Native American children buried in the cemetery from the years they were forced to attend the American Indian boarding school at this location. We prepared a page about the cemetery a few weeks back, but while researching the material for the page, learned that an 8' fence has been erected around the cemetery to prevent vandalism since the last time we had been there.

With the additional photos a new page devoted to the Haskell Indian Nations University Cemetery was added tonight.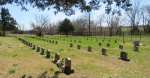 Haskell Indian Nations University Cemetery
Sunday - April 8, 2018: Mary & Nicholas joined us in a revisit of El Pulgarcito Restaurant in Merriam, Kansas. We have had a review of the Salvadoran restaurant since 2009, but it had been several years since our last visit. My cheese papusa was even better than I remembered, with a crispy outer edge and the curtido (spicy cabbage slaw), which I added from a small bowl. Papusas are the quintessential Salvadorean dish, made from thick corn tortilla stuffed with a savory filling.

My pollo guisado (chicken in a season sauce) was less flavorful than I remembered and good have benefited from some salt, but there is no slat on the tables and I didn't ask for any. The platano frito (fried plantain) was very good.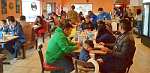 El Pulgarcito Restaurant