Sunday - October 4 2020: This afternoon, we participated in the Kaw Valley Farm Tour, starting out at Davenport Orchards Vineyard and Winery on the west side of Eudora. After a brief tour of the wine making facility, we waited a a socially distanced line for an opportunity to sample wines. After sampling the semi-sweet wines, we purchased 3 bottles of Traminette. We bought it for the taste, but after we got home, I noticed the wonderful science fiction theme label. Davenport uses the art of local artists on their labels.

Our second stop on the tour was at Country Road Farms, southeast of Eudora. A number of other vendors had sat up tents and tables selling products from other businesses in the region. We purchased fajita seasoning from Kansas City, Kansas based Grammy Tammy Creating in Kansas.

Country Road Farms has a small building devoted to selling their meat and other products. We purchased frozen beef sticks and a whole chicken to try sometime this fall.

We headed south toward Baldwin City and went to Vesecky Family Farms, which I first visited on the Kaw Valley Farm tour 4 or 5 years ago. After talking to the goats, we purchased another whole chicken to roast when the days get colder.

After driving through Baldwin City, we visited Ad Astra Alpacas where we looked through the selection of clothing made from from alpaca fiber. Then we fed the alpacas, which were split into a group of boys and a group of girls.

Our final stop was Clearfield Schoolhouse, northeast of Baldwin City. The one room school was built in 1900 and operated until 1946. The Clearfield Grange met in the building until the 1990s, It was placed on the National HIstoric Registry in 2014.

Volunteers have restored and furnished the schoolhouse, so it looks like it did about 1908. They host programs for children in the school. This school is a little unusual, with two entrances in the front. One for boys and one for girls. It is also unusual in the the front of the classroom is on the same end as the entrances.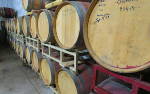 Davenport Orchards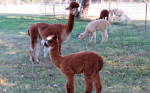 Ad Astra Alpacas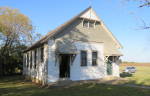 Clearfield Schoolhouse
Wednesday - October 7, 2020: At lunch time I made my third recent trip to Edwardsville, Kansas to get another carry out meal at Roscoe's Barbeque. Today' meal was a burnt end dinner with onion rings and baked beans. I thought it was a little expensive at $16. The burnt ends were slightly fatty and had a good flavor from the smoking, but would have benefited from just a touch of crisp on the outside. The onion rings and beans were both slightly above average, The beans are sweet and have just a slight bit of meat.

From Edwardsville, I circled north to Wyandotte County Lake in Kansas City, Kansas to take some photos and videos with the early fall colors and then south to to Merriam to take more of the same at Waterfall Park.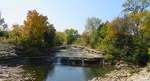 Waterfall Park
Monday - October 12, 2020: We added a new page devoted to The Shepherd's Mill in Phillipsburg, Kansas, which is one of only two fiber processing facility in Kansas. About half of the facility is devoted to turning hair from sheep, yak, alpaca, goat and other animals into thread and yarn. There is an attractive gift shop and the mill shares a wall with several windows where the work can be watched.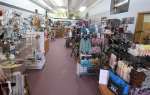 The Shepherd's Mill
Wednesday - October 14, 2020: We added a new page devoted to Jesse James Cave, near Pomona, Kansas is one of the few caves in Kansas where the public is welcome to visit. It is more of a large overhang than a cave, but still interesting to visit. It is more of an overhang than a cave, but it is an interesting spot, with a creek running through the cave from right to left.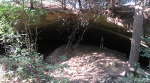 Jesse James Cave